Donald Trump News: Latest Attack Aimed at Joe McQuaid of the 'New Hampshire Union Leader'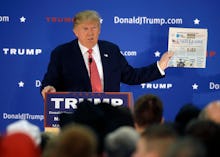 Steven Senne/AP
Republican presidential hopeful Donald Trump is no stranger to controversy or public attacks. The latest target in his long string of free expression is a key publication in New Hampshire, the New Hampshire Union Leader. Trump's words were lobbed at the newspaper's publisher, Joe McQuaid. In a phone interview Monday with WMUR, Trump called McQuaid a "real lowlife" in response to a scathing editorial McQuaid penned Sunday comparing Trump to Biff, a character from the cult classic Back to the Future. 
"Joe McQuaid, he's a real lowlife, no question about it," Trump told WMUR. "On top of that he does this. And I knew he'd do it because I didn't do his debate. His debate turned out to be a total failure." 
Speaking Monday at a rally in Nashua, New Hampshire, on the campaign trail, Trump said he had made multiple appearances in New Hampshire at McQuaid's request. Trump qualified McQuaid's editorial as a "very disloyal act," and, throwing the paper into the crowd, calling it a "piece of garbage."
The source of Trump's tangle with the Union Leader depends on whom you ask. Trump says McQuaid is bitter because he didn't participate in the forum the Union Leader hosted in August. But speaking to WMUR, McQuaid said the Union Leader is simply continuing to practice its freedom of speech, and that he was surprised Trump's attacks didn't come sooner, considering the newspaper threw its support behind New Jersey Gov. Chris Christie in late November. 
"It's nonsense," McQuaid told WMUR in reference to Trump's remarks. "Anybody who knows the Union Leader knows we say what we believe and nobody tells us what to do, neither Gov. Christie nor Donald Trump or anybody else."
McQuaid titled an article in November announcing the Union Leader's endorsement of Christie: "For Our Safety, Our Future: Chris Christie for President." 
The crux of the feud could be the extremeness of Sunday's editorial; the Union Leader is an influential conservative paper in a critical state for the 2016 presidential election. McQuaid wrote in the editorial the idea that Trump might win the Republican nomination was "an insult to the intelligence of Republican voters."
"Trump has shown himself to be a crude blowhard with no clear political philosophy and no deeper understanding of the important and serious role of president of the United States than one of the goons he lets rough up protesters in his crowds," McQuaid wrote. "He reminds us of the grown-up bully 'Biff' in the Back to the Future movie series. Lo and behold, the screenwriter says that he based Biff on Trump. On Feb. 9, we trust New Hampshire Republicans will send 'Biff Trump' back to somewhere — anywhere but on the road to the most important elective office in the United States at a most crucial time for this nation."
Trump is leading in the polls, according to recent figures. According to a recent poll from Quinnipiac University, Trump has garnered 28% of Republican primary voters' favor, trailed by Texas Sen. Ted Cruz, who is polling at 24%, and Florida Sen. Marco Rubio, who's polling at 12%.