Here's a Brief History of Skellig Michael, the Island in Final Scene of 'Star Wars' 7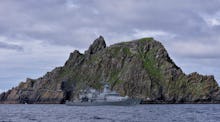 Charles McQuillan/Getty Images
In the final scene of Star Wars: The Force Awakens (spoiler alert) Rey, played by Daisy Ridley, meets Luke Skywalker on a mysterious island that's supposed to be part of a planet far, far away — but it was actually filmed on the remote island of Skellig Michael, a UNESCO World Heritage site off the coast of Ireland in the Atlantic Ocean.
Skellig Michael, or Sceilg Mhichíl, has been on the figurative map since the 7th century, when it served as a monastery for Irish Catholic monks, according to UNESCO. It's a rigid, steep island that resembles a volcano and is located about 7.5 miles off the coast of Valentia Island, County Kerry, Traveller reported. 
The island is protected as a World Heritage site because its "outstanding universal value being an exceptional, and in many respects unique example, of an early religious settlement" and because it "illustrates, as no other site can, the extremes of a Christian monasticism characterizing much of North Africa, the Near East and Europe," according to UNESCO's website. 
Monks isolated themselves on the remote island between the 6th and 7th centuries in pursuit of becoming closer with God, according to World Heritage Ireland. Two lighthouses were built on the island in the 19th century and it's home to the second largest colony of sea birds in the world, according to the island's visitor's center.
After Nobel Prize-winning Irish playwright George Bernard Shaw visited the island in 2010, according to World Heritage Ireland, he described it as an "incredible, impossible, mad place" and "part of our dream world."
The island's remoteness has prevented it from becoming a popular tourist site, but that could change after the final scene of the first film to sell $1 billion in tickets in 12 days put the geographically unique land on many movie fans' radar. Skellig's visitor's center offers exhibits, educational films and a two-hour boat trip circling the island.