Here's What's Coming to HBO Online in January, From 'Sesame Street' to 'Superman Returns'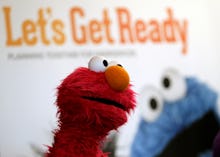 Julio Cortez/AP
There'll be a slew of new shows and movies for eyes to feast on via HBO online, which may cause difficulties for those whose New Year's resolution is to not binge watch television anymore. For starters, there's the beloved childhood show Sesame Street, returning Jan. 16 for its 46th season. For the first nine months, only HBO will be airing the new episodes and is the first time the show is not airing on PBS (Sesame Street will also say goodbye to Netflix in January).
Movies like the 1976 cult classic Carrie, 2007's Knocked Up and 2008's Milk will be hitting HBO on Jan. 1. The critically acclaimed feminist action flick Mad Max: Fury Road will be joining the HBO crew on Jan. 9. 
HBO's Entourage movie adaption, starring Adrian Grenier, Kevin Connolly and Jerry Ferrara, will also be available for streaming Jan. 23. 
January will also be the last chance to watch The Lego Movie, last year's Gone Girl and 2006's Superman Returns. 
Below is a complete list of the movies and shows coming to HBO in January, according to CNET: 
Available Jan. 1:
Borat: Cultural Learnings of America for Make Benefit Glorious Nation of Kazakhstan (2006)
Carrie (1976)
Cry-Baby (1990)
Down to Earth (2001)
Final Destination 3 (2006)
Joe Versus the Volcano (1990)
A Knight's Tale (2001)
Knocked Up (2007)
Lucky Numbers (2000)
Malcolm X (1992)
Milk (2008)
The Muppet Christmas Carol (1992)
Pretty in Pink (1986)
The Rainmaker (1997)
Troop Beverly Hills (1989)
Tropic Thunder, Director's Cut (2008)
Two of a Kind (1983)
Wonder Boys (2000) 
Available Jan. 2
The Second Best Exotic Marigold Hotel (2015)
Available Jan. 3
Far From the Madding Crowd (2015)  
Available Jan. 4
Calvary (2014)
Available Jan. 6
Ride Along 2: HBO First Look
Available Jan. 9
J. Cole Forest Hills Drive: Homecoming 
Mad Max: Fury Road (2015)
Available Jan. 16
Sesame Street
Unfriended (2014)
Available Jan. 17
The Godfather Epic
Available Jan. 22
Psi
Available Jan. 23
Entourage (2015)
Whitney Cummings: I'm Your Girlfriend
Available Jan. 24
As Above/So Below (2014)
Available Jan. 30
True Story (2015)
Everything leaving HBO in January, via CNET:
Leaving Jan. 17
Lone Survivor (2013)
Leaving Jan. 31
Alex & Emma (2003)
Because I Said So (2007) 
Dumb and Dumber To (2014)
Far From Heaven (2002)
Flicka (2006)
For Your Consideration (2006)
Four Weddings and a Funeral (1994)
Gone Girl (2014)
John Wick (2014)
The Judge (2014)
The Last King of Scotland (2006)
The Lego Movie (2014)
Mulholland Dr. (2001)
O Brother, Where Art Thou (2000)
Shallow Hal (2001)
Snow Day (2000)
Superman Returns (2006)
This Is Where I Leave You (2014)