The Knockoff Hoverboard Industry Is Exploding Faster Than Its Products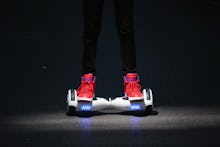 Hoverboards were the hot tech gift of 2015 — so hot they were catching fire, burning up houses, exploding in driveways and sending people flying for their fire extinguishers.
To protect its customers from the possibility of their hoverboards exploding, Amazon cracked down on its hoverboard retailers — many of which are Chinese — demanding that they adhere to strict new standards. Those sellers are now describing the hoverboard business as "getting massacred" by Amazon's crackdown, and many sellers are planning a protest outside of Amazon's Guangzhou office on Tuesday.
"The whole industry has been wiped clean," one hoverboard reseller told Quartz. "Small factories have exited the market, and everyone is paying more attention to safety and patents."
The only recommendation we can safely make for now is that you not purchase a hoverboard at all.
Since Amazon started requiring hoverboard vendors to submit to a list of standards, there are now seven potential manufacturers selling on Amazon, down from dozens of potential retailers only a month ago. One retailer's business was cut in half and has to downsize from 500 employees to just 100, according to Quartz.
Halt and catch fire: It's difficult to know exactly why so many hoverboards catch fire. It's likely because a myriad number of Chinese factories have rushed in to meet the safety demands. In most documented cases thus far, the problem has been a malfunction in the lithium-ion battery that causes the battery to catch fire and explode.
Meanwhile, hoverboards are racing vapes to become the most banned item for their potentially catastrophic effects. A slew of major airlines have banned them, and the entirety of New York City has put hoverboards under a city-wide ban that doesn't seem to have much effect.
In the meantime, a clear victor in the race toward a safe, standards-driven hoverboard arms race hasn't yet emerged, which means that the only recommendation we can safely make for now is that you not purchase a hoverboard at all.