Rapper Dappy Claims He's Part of Reclaiming the N-Word — And Twitter Is Pissed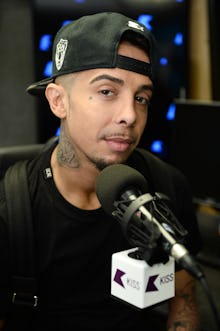 Rapper Dappy stirred up the ire of Twitter users Tuesday when he claimed in a since-deleted tweet he was part of the fight to reclaim the word "nigga." The former member of N-Dubz's real name is Costadinos Contostavlos. He hails from Camden Town, north London and is of Greek-Cypriot descent. And he released a new album, Eros Apollo, on Christmas Day that is filled with verses using the word "nigga."
With a hashtag #FallBack, he argued the word has grown beyond any racial associations, "If the word N*gga means black to you then your [sic] Racist."
His words opened up the backlash floodgates, with Twitter users accusing Contostavlos of trying to reassign his heritage, using "we" and "our" to group his way into being black. The Rachel Dolezal comparisons came quick.
In response to one user who called out his use of "us" and "we," he wrote in another since-deleted tweet, according to the Independent: "Yes we!! Yes us!! I dnt hav blck friends [sic], I have black family, so if a racist see's my kids as a n*gga [sic], then so am I!!! No?"
The "I've got black friends" defense hasn't worked well for other celebrities who have been called out for their use of the word in the past. However, Contostavlos still managed to pull some supporters to his side, whom he was quick to retweet.
Contostavlos took to Instagram to make an apology, claiming again he has been part of the fight to end systemic racism. "Since the start of my career, I have helped, encouraged and supported all my brothers and sisters regardless of their racial background," the Instagram statement reads. "That in itself demonstrates the use of the word racist is complete and utter garbage."
The story is one of the biggest news hits on the rapper since April 2014, when he shared photos of a new hashtag face tattoo he got to make sure he "stays trending 4 ever." Trending for being "Dappy Dolezal" was likely not what he had in mind.