Times Square New Year's Eve Ball Drop Livestream 2015: Here's How to Watch Online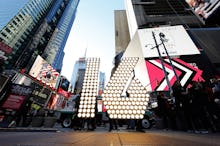 John Lamparski/Getty Images
The world will have its sight set on a few key locations on New Year's Eve, as major cities across the globe ring in 2016 with annual traditions including fireworks, light shows and incredible displays of artistry, music and dance. As always, New Year's Eve will be one of the most watched events on Thursday night, and this year the famous Times Square ball drop will stream live for free via a number of outlets.
Of course, there's CNN anchor Anderson Cooper and comedian Kathy Griffin's traditional New Year's Eve celebration hosted from Times Square. The livestream kicks off on CNN's event page at 11 p.m. Eastern and is sure to be filled with surprises. Seriously, Cooper gets painfully awkward every time Griffin does just about anything — it's adorable. 
Livestream.com also hosts an annual New Year's Eve celebration for international audiences, offering a variety of beautiful views of Times Square and the Big Apple on Thursday night. Allison Hagendorf will host the event for the site as the city celebrates the new year. 
Even the "Times Square Ball," the majestic, 12,000-pound, 12-foot-wide crystal ball that descends onto Times Square at the stroke of midnight each year, has its own livestream in 2016. TimesSquareBall.net will show the ball drop online so audiences can enjoy from the comfort of their homes as thousands of onlookers pack into the heart of Manhattan.
Artists performing in Times Square this year include Jessie J and Demi Lovato, among several other celebrities taking to the city for the annual night of festivities. If the last night of 2015 is anything like the rest rung in by New York City, it will surely be a night to remember.