You're Not Alone: Jennifer Lawrence Doesn't Like New Year's Eve, Either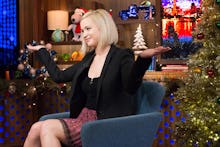 Today in Jennifer Lawrence news, the Joy actress has said a thing that normal, everyday people can relate to.
This time, the starlet has shared her thoughts on New Year's Eve. But instead of feigning excitement for the annual holiday of partying and kissing and bittersweetly singing "Auld Lang Syne," J-Law decided to go ahead and drop what just might be the final Jennifer Lawrence truth bomb of 2015: She thinks New Year's Eve is kinda meh.
Don't we all, J-Law. Don't we all. 
The revelation came during an interview on the Graham Norton Show, which was pre-taped and won't air until New Year's Eve (lol). But E! reports that Lawrence told host Graham Norton and fellow guest Eddie Redmayne that she "really hates" the holiday, mostly due to the pressure people put on it to be a majestic occasion.
"I've never had a good one," she reportedly said. "Everyone's chasing a good time, and it's always a disappointment."
Therefore, she said, she's not committing to any NYE extravaganzas.
"I plan on doing nothing and then if something lands in my lap..." she said. "But I always end up drunk and disappointed."
With all the hype surrounding glamorous parties and making (and keeping) New Year's resolutions, Lawrence is right that people tend to put too much pressure on themselves to have a good time on New Year's Eve. Also, pop culture is v. into hyping up New Year's Eve, be it through a romantic comedy of the same name or through Jennifer Lopez's 1999 music video for "Waiting for Tonight," in which the countdown to New Year's 2000 is treated as a gloriously climactic moment of dance-fueled euphoria.
Lawrence's opinion that New Year's Eve is overrated actually seems to be fairly common. According to a 2013 poll by wine manufacturer Barefoot Bubbly, 62% of adults said that their New Year's Eve festivities rarely lived up to their expectations. So relax — you don't have to blow a lot of cash on glittery apparel and scramble for a ticket at your local overpriced watering hole. You can stay in and ring in the New Year with J-Law and other anti-NYE peeps. 
Thanks for bringing the realness this year, J-Law — and Happy New Year!
h/t Refinery29