125 Years After a Massacre, Native Americans Are Still Fighting to Take Back Wounded Knee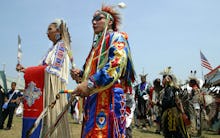 Tim Giago could have retired with his accomplishments.
The 81-year-old Oglala Lakota journalist and South Dakota native founded the influential Indian Country Today, the first independent Native American newspaper in the United States, and served as president of the Native American Journalists Association. He was also one of Harvard University's prestigious Nieman Fellows. 
Now the octogenarian is hoping to add historical preservationist to his string of achievements. Giago is presently in discussion to purchase land where the massacre of Wounded Knee took place. The killing, which occurred Dec. 29, 1890 — 125 years ago Tuesday — saw federal soldiers descend on the Native American settlement near South Dakota's Wounded Knee Creek and slaughter roughly 300 Lakota men, women and children. Twenty-five U.S. soldiers lost their lives, and 20 others were awarded the Medal of Honor. It was the last major engagement between the United States and Native American tribes.  
Despite its weighty historical significance, much of the land is currently in private hands.
"Every tribe in South Dakota has an historic connection, I think, this sacred ground, Wounded Knee," Giago told South Dakota's local Keloland TV. "The intent of purchasing the land is to set up a trust and put the land in trust for all nine tribes of the Great Sioux Nation."
Critical areas of the site, including a historic trading post, are presently owned by a non-native landowner, Jim Czywczynski, 79. According to a Native Sun News report that was sent to Mic ahead of its publication Wednesday, Czywczynski had indicated his desire to sell, and Giago approached him to see if a plan could be struck to prevent the property being sold for private development.
"I talked to Jim Czywczynski, and he gave me the exclusive rights to purchase that Wounded Knee property," Giago told Keloland. "So that's what I'm trying to do. I'm going to raise the money through the foundation." 
The nonprofit is aiming to raise $3 million to purchase 40 acres of land, including the trading post. Once back in tribal hands, Giago said the site should become a memorial to the massacre, featuring a "Native American Holocaust Museum" and a trading pavilion that could serve as a hub for local Native American artists and craftspeople, according to the Native Sun News.
"We need things here that will create jobs, that will bring tourists down here," Giago told Keloland. (Mic reached out to Giago, who declined to offer additional information and directed us to his Keloland interview.)
With centuries of warfare behind them, a prominent monument to Native American history like what Giago envisions would join many others around the country. Hovenweep National Monument, the ruins of a historic Native settlement, have been protected in southwestern Colorado. Georgia has a small historic site commemorating the forced relocation of Cherokee natives during the Trail of Tears. In South Dakota, meanwhile, about two hours by car from Wounded Knee, a memorial to the Lakota Chief Crazy Horse has been under construction for more than 60 years. There are others too, but not many. 
So with a deal tentatively struck, only time — and money — will tell whether Giago's dream becomes a reality.