Bernie Sanders Just Escalated His War of Words with Donald Trump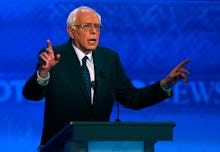 "Vulgar." A purveyor of "crap." "An embarrassment for our country."
Democratic presidential hopeful Sen. Bernie Sanders (I-Vt.) has had some choice words for Republican frontrunner Donald Trump, the swashbuckling billionaire tycoon and an ideal foil for a candidate who calls for a "political revolution" against "the billionaire class."
Until this week, Sanders had largely evaded Trump's notice, save for a jab at Sanders for allowing Black Lives Matter protesters to disrupt one of his rallies this summer. ("Bernie can't even defend his microphone. How will he defend the country?") But as Sanders makes a direct appeal for Trump's voters, the two very different anti-establishment politicians are now engaged in a war of words befitting two outer-borough brawlers.
The Sanders offensive: Sanders fired the opening salvo this weekend, during an appearance on CBS' Face the Nation. Noting that much of Trump's support comes from the white working class, Sanders argued that he, not the real estate magnate, offered a policy agenda better tailored to those voters' concerns.
"[T]his is a guy who does not want to raise the minimum wage. In fact, he has said that he thinks wages in America are too high. But he does want to give hundreds of billions of dollars in tax breaks to the top three-tenths of 1%," Sanders said. 
Sanders was referring to repeated comments from Trump that American wages were too high for the country to compete globally. Baited, Trump called Sanders a liar for his characterization of Trump's comments, and by Monday morning, Trump declared that wages were, in fact, "too low."
Appearing at a Nashua, New Hampshire rally on Monday evening, Trump unloaded on Sanders, calling him a "wacko" who would "give everyone everything free" but impose "massive, massive, massive tax increases" to do so. The Washington Post reported that Trump also derided Sanders' notion that we could convert Trump supporters.
"I don't think there's too many Bernie Sanders people here," Trump told the audience.
Sanders, fighting to regain momentum amid polls that show Hillary Clinton consolidating her lead, relishes the fight with the bombastic GOP frontrunner, whose policies Sanders blasted as "pathetic" following Trump's latest attack.
In a statement to the Washington Post, a Sanders campaign spokesman said, "Being called wacko by a pathological liar like Mr. Trump makes me think he is getting nervous that the American people are catching on to his pathetic policies, which include giving hundreds of billions of dollars in tax breaks to billionaires like himself while refusing to raise the $7.25 an hour minimum wage."
In taking on Trump, Sanders is borrowing a page from his Democratic rival's playbook. During the most recent Democratic presidential debate, in Manchester, New Hampshire this month, Clinton repeatedly hammered Trump for his inflammatory rhetoric, and her campaign has sought to depict the GOP as beholden to Trump's divisive ideas on issues from immigration reform to Islam to women's rights. Democrats see Trump as a powerful recruiting tool as they seek to keep turnout high and hold onto the White House for a third consecutive term.
Polling averages indicate that both Clinton and Sanders would edge Trump in a general election battle.