Here's How to Check Airport Delays and Cancellations Caused by Winter Storm Goliath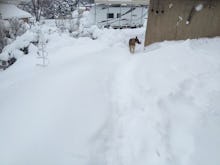 Kim Serrano/AP
The weather outside is truly frightful, pretty much everywhere in the U.S. This year's "Godzilla El Nino" continues to bully travelers nationwide, as Christmas tornadoes, record rainfall, flash floods and thunder, ice and snowstorms instigated airport mayhem in the wake of Friday's holiday. According to the Weather Channel, Winter Storm Goliath is cutting a path of destruction up through Texas, across the Midwest and toward the Northeast. The flight forecast looks bleak, and travel tensions are higher than even United's stress dogs can manage.
USA Today reported on Monday that Chicago O'Hare — "the USA's second busiest airport and is a hub for both United and American" — was experiencing its second consecutive day of nightmarish delays, with upwards of 1,300 flights cancelled as of 8:40 p.m. Eastern. Chicago's Midway Airport (a highly trafficked Southwest hub) canceled almost half its flights, according to USA Today, while Dallas/Fort Worth canceled some 350 flights following a chaotic Sunday on which close to half of all flights were either canceled or delayed. Nationwide, 2,750 flights had been canceled and 4,500 delayed as of Monday evening. 
USA Today based its numbers on data from Flight Aware, which is a good and useful site for anyone hoping to make it out of an airport this holiday season. According to Flight Aware, things are looking up Tuesday: 1,074 flights have been canceled so far, with just over 4,000 delayed. 
Flight Aware offers users a handy Misery Map, which pools data from each airport within a given city for a real-time visual of the flight situation across the country. The situation doesn't look great for travelers moving through New York, Los Angeles, Chicago, Dallas, Houston, Washington, D.C., Boston and Atlanta. 
The airports to watch Tuesday are:
° Chicago O'Hare International, with 607 delays and 260 cancelations
° Boston Logan International, with 317 delays and 123 cancelations
° Atlanta Hartsfield-Jackson International, with 356 delays and 36 cancelations
° Dallas/Fort Worth International, with 346 delays and 124 cancelations 
° New York John F. Kennedy International, with 243 delays and 34 cancelations
° New York LaGuardia, with 168 delays and 60 cancelations
° Newark Liberty International, with 251 delays and 124 cancelations
° Denver International, with 321 delays and 67 cancelations
° Phoenix Sky Harbor International, with 212 delays and 25 cancelations
° Los Angeles International, with 240 delays and 33 cancelations
° Houston Bush International, with 235 delays and 62 cancelations
That's just so far. We'll be updating this page as the storm makes its way east, and will be adding airport closures and updated cancelation information as it becomes available. The Weather Channel says that New York, Pennsylvania and Maine can look forward to a particularly rowdy visit from Goliath. East Coast: brace.
Dec. 29, 2015, 6:09 p.m.: This story has been updated to reflect the most recent numbers for eleven major airports.