Usher's Allstate Fan Fest Concert on Tidal — Here's How to Watch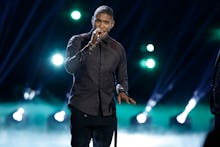 NBC/Getty Images
R&B artist Usher is headlining Allstate's 10th Fan Fest, a concert in the heart of New Orleans at the Mercedes-Benz Superdome on Wednesday night, just before the Crescent City celebrates New Year's Eve in the famous venue. However, those visiting New Orleans for the free two-day event sponsored by the insurance company won't be the only ones lucky enough to catch Usher performing Wednesday night — Tidal has decided to livestream the event for a global audience of music streaming subscribers.
The livestream will kick off at 6:15 p.m. CT in New Orleans — 7:15 Eastern for online audiences. The concert is part of Allstate's annual tradition of providing free entertainment events in New Orleans while raising money for charity.
"New this year, The Allstate Foundation will donate items to a silent auction run by the National Network to End Domestic Violence," an announcement of the event posted to Yahoo Finance by Allstate published Wednesday noted. "The silent auction will include items such as an Usher meet-and-greet and a variety of signed merchandise. Attendees are encouraged to make a $10 donation to the National Network to End Domestic Violence at the giant purses [located] at each Allstate Fan Fest entrance or bid on a silent auction item. The Allstate Foundation will match all donations made on-site dollar-for-dollar up to $50,000."
The event will be live streamed on Tidal. Fans planning on watching the event on livestream or for free in New Orleans can use the hashtag #Usherliveallstate on Twitter for a chance to receive a custom message from the "Chains" artist before he headlines the concert Wednesday night. 
Usher recently performed at the Tidal X: 10/20 charity event hosted by Jay Z at the Barclay's Center in Brooklyn, New York in October, along with Nicki Minaj, Beyoncé, Meek Mill, French Montana and Rick Ross, among several others. Tidal recently surpassed one million subscribers, many of which will likely tune into one of the streaming service's major artist's latest live streaming events Wednesday night.