Ivanka Trump Just Argued That Her Father Has Feminist Values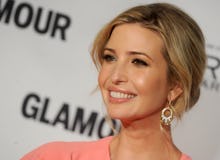 Despite her father's notorious sexist reputation, Ivanka Trump has made efforts to publicly support and champion women. While one would assume her efforts to do so set the successful businesswoman apart from her father, the presidential hopeful's daughter claims her father not only acknowledges these values, but also promotes them himself.
Ivanka's defense: Trump didn't explicitly call her father a feminist, noting to Town and Country that one would "have to ask him that," but she conceded that "he 100% believes in equality of gender, so, yes, absolutely — socially, politically and economically."
For example, her father has supported women in the context of his business ventures: His company has employed women in high-ranking positions for years, Trump said. 
"This company, over four decades, has always had women in its highest ranks," she told Town and Country in its February 2016 issue. "I think he's one of the great advocates for women, and he has been a great example to me my whole life."
One need look no further for evidence than her own role in the company, according to Trump, who is the executive vice president of development and acquisitions at the Trump Organization in addition to running her own jewelry and clothing line. If her father "didn't feel that women were as competent as men, I would be relegated to some role subordinate to my brothers," she argued. "I think this is one of his great strengths: He fully prioritizes merit and accomplishment and skill and ability over background, education and gender."
The GOP candidate has "confidence in women to do any job that a man can do, and my whole life has been proof of that," she concluded.
Donald's history of sexism: Despite his daughter's claims, Donald Trump has undeniably made offensive comments about women over the course of his career. Before launching his presidential campaign, the businessman notoriously made degrading comments about Rosie O'Donnell as well as New York Times reporter Gail Collins in response to their criticisms of him. And although Donald Trump has claimed he "cherishes" women throughout his current campaign, he has also made offensive comments about Fox News' Megyn Kelly and fellow candidates Carly Fiorina and Hillary Clinton. Specific targets aside, Donald Trump has also made offensive statements about Muslim women and burqas, made sexist comments to female contestants on his show, The Apprentice, and made countless other negative comments about women.
While Ivanka Trump acknowledges these comments, she doesn't view them as sexist — arguing that anyone he opposes is fair game for such criticism.
"You could also list a few comments he's made about men that are unflattering," she said. "I think he's highly gender-neutral. If he doesn't like someone he'll articulate that, and I think it's also part of what resonates about him. He'll say what he's thinking."
Feminist or not, Ivanka Trump's observation of her father's resonance is certainly accurate. The candidate's popularity continues to climb: The Examiner reported Monday that 36% of respondents in a recent poll supported Donald Trump, and in a Gallup poll he tied with none other than Pope Francis for the designation of second most admired man in the United States.
As Ivanka Trump concluded, "It's amazing to see how his message has resonated and what he's been able to accomplish as a non-politician with a very strong point of view."
h/t Town and Country