Cleveland Kids Ask #IsItReasonable in Powerful Photo Project Inspired by Tamir Rice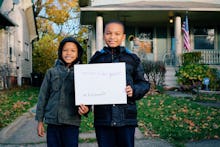 On Nov. 22, one year after 12-year-old Tamir Rice was shot and killed by Officer Timothy Loehmann at a Cleveland, Ohio, recreation center, members of the Yale Black Law Student Association launched the #IsItReasonable campaign online.
The project's goal, according to its creators, was to build a resource for people who wanted to learn about the case — the job of a grand jury, what a prosecutor does and what constitutes "reasonable" police force, among other factors.
But in the month that followed, it became more than that. Cuyahoga County Prosecutor Tim McGinty announced Monday that no charges would be filed against Loehmann in Rice's death, sparking fierce backlash among residents and advocates, and fueling an ongoing protest movement against state-sanctioned anti-black violence.
Meanwhile, the conversation around Rice's death kept turning back to his appearance, how he was "big for his age" and therefore appeared more threatening to the officers than the average 12-year-old.
By partnering with people on the ground in Ohio, black Yale Law students — led by Cleveland native Marvin Brown, 27, and Wisconsin native Olevia Boykin, 22 — supplemented their informational project with a photo series that captures the mental and emotional toll Rice's death had on the region's children.
The result is a striking display of the human side of the case. The images below, a selection from the project, show children aged 12 or under.
"[Olevia and I] went to Cleveland directly and spoke to various parents in the area, at rallies, local schools and asked if they'd like to participate," Brown told Mic. "We gave the kids markers and poster board, and they were able to draw whatever they wanted ... All we asked them to do was use the hashtag."
The crux of #IsItReasonable is the question of how Loehmann acted when he approached Rice. The 12-year-old had a toy gun at the time, but Loehmann fired his weapon mere seconds after pulling up by him in a patrol car, raising questions as to whether Rice had time to react to the officer's alleged command to drop the "weapon."
Last month, an expert analysis commissioned by Rice's family's attorneys stated the boy had his hands in his pockets the whole time. This account was preceded by an opposing expert analysis commissioned by McGinty, in October, in which a Colorado prosecutor and a former FBI supervisory special agent claimed Loehmann acted "reasonably" when he shot Rice.
"Part of the problem here is the reasonableness standard itself," Boykin said. "As in, why is it so hard to hold police accountable for killing people?"
Brown and Boykin told Mic that police in the U.S. have some of the lowest standards governing their decision to use force. "The U.N. has a much higher necessary standard," Brown said, a fact confirmed in a report from Amnesty International in June. "So the question becomes, how do we get policymakers in the U.S. to adopt that higher standard?"
Legal points aside, Brown and Boykin said they wanted to highlight the human toll of Rice's death, especially in his community. "One of the things that was most moving for me was when we went to Cudell Park, where we took quite a few photos," Brown said. "We were literally sitting where Tamir was shot. Right behind it is an elementary school, children on swings, playing."
"These children know what's going on ... all of them knew about the Tamir Rice case, and all had their own personal thoughts about it. I think having these candid conversations with them is really important, and finding a way to engage kids that way."
The next steps for the project include pushing forward the conversation on reasonable force and the standards of conduct to which police are held. Boykin added that they are still accepting submissions to the photo project — they can be emailed to the campaign or posted to social media using the hashtag #IsItReasonable.
"We'd hoped to kind of start in Cleveland and make it a broader conversation," Boykin said. "Sadly, these issues are not locale-specific."
As for Rice's family, the absence of justice after 13 months of waiting comes as no surprise. "Tamir's family is saddened and disappointed by this outcome — but not surprised," the family's attorneys said in a statement Monday.