2016 Golden Globes: Early Preview of Hollywood's Big Night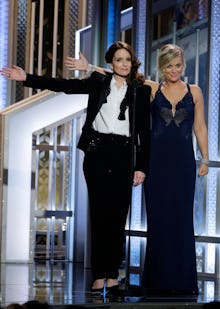 Handout/Getty Images
We're so excited and we just can't hide it, so this year, awards show season starts early. The 73rd annual Golden Globes will air Sunday, Jan. 10, at 8 p.m. Eastern on NBC. Nominees were announced earlier in December and while the awards are still more than two weeks away, it's always a good idea to be prepared. Here's everything we know about 2016's Golden Globes.
"Tonight we honor the television shows that have entertained us all year," Tina Fey said last year during the show's opening monologue, "As well as the films that have only been in theaters for two days." Box-office smash Star Wars: The Force Awakens, unfortunately, did not make the nomination deadline, giving the world a reprieve from Star Wars mania.
A little history: Every year, the Hollywood Foreign Press Association (HFPA) puts on the Golden Globes to raise money for charities in the entertainment field and scholarship within the film and TV industry. The brainchild of a group of journalists determined to increase access to entertainment during World War II, the HFPA celebrates the anniversary of its founding with the award show. 
The host: Tina Fey and Amy Poehler are generally agreed to have crushed it as Globe hosts for the past three years, but this year the award show is back in the hands of British The Office creator and star Ricky Gervais. As People reported, Gervais hosted the Golden Globes from 2010 to 2012, departing on something of a sour note after critics deemed that his 2012 performance crossed some lines. While Fey and Poehler manage to skewer deserving celebrities with panache, Gervais has a tendency to rub some viewers the wrong way. Still, viewers can bet that no punches will be pulled during the 2016 broadcast.
Category favorites — film: HFPA members vote to nominate contestants in each of the Globe's 25 categories. According to the Washington Post, there are a few frontrunners in this year's race. 
Carol scored five nominations: Lead actresses Cate Blanchett and Rooney Mara are both up for best actress in a motion picture drama, while Todd Haynes is in the running for best director. The movie itself has been nominated for best picture (drama) and best original film score.
The Revenant also received nominations for best picture (drama) and best original film score. Leonardo DiCaprio garnered a nod for best actor in a motion picture drama, and Alejandro Inarritu is up for best director.
The Big Short is nominated for best picture (musical or comedy) and best motion picture screenplay. Steve Carell and Christian Bale are both in the offing for best film actor in a musical or comedy.
Steve Jobs redeemed its box-office failure, netting nominations for best motion picture screenplay and best original film score. Michael Fassbender is up for best actor in a motion picture drama, while Kate Winslet is up for best supporting actress in a motion picture.
Category favorites — TV: The Washington Post reported that this year, "there were no clear frontrunners," save for maybe Netflix, which bested both network shows and Amazon with eight total nominations. Notable mentions? Orange is the New Black, Empire and Game of Thrones. 
American Crime, Fargo, Mr. Robot, Outlander,Transparent and Wolf Hall are tied for the top contender spot with three nominations each.