Courtney Love Is Getting Her Own Clothing Line With Nasty Gal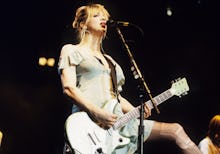 Think about the fashion of the '90s. Flannel. Doc Martens. Not bathing. Basically, everything slightly "grungy" that Urban Outfitters has been stocking for the past five years. 
Now think about the woman who encapsulated all of it. From ripped babydoll dresses to not giving a damn, grunge rocker Courtney Love was the girl for '90s style.
Now, she's a Nasty Gal, too. 
Confirmed on Tuesday in the form of an Instagram (of course), going-out-clothes emporium Nasty Gal has tapped Hole frontwoman Courtney Love for a fashion collaboration. Scrunch your brows all you want, confused Gen Z-ers, and feast your eyes on the person responsible for all those babydoll dresses and clunky black boots you love so much.
When the e-commerce company teased the news with an Instagram on Monday, you could practically hear 1 million 15-year-olds in platform pumps screaming, "Moooom!!" across the house, asking, "Who the hell is this?" 
But they should know. Even if the definition of "grunge" has changed, the styles that Love popularized are back with a vengeance, from the swingy dresses and thin tees to clunky shoes and messy cropped hair.
Love has had issues with creating fashion lines in years past: Three years ago, the rocker started her own line that Fashionista described "moldy vintage pieces." But her aesthetic is ironclad. Love herself has called it "kinderwhore," a combo of edgy grunge and punk looks, all with a babydoll vibe.
Luckily, that's Nasty Gal's whole schtick. Search for "babydoll dress" on the e-commerce site and you'll get 23 pages of options. Just look at this picture of Courtney Love and then look at this dress currently on sale at Nasty Gal: 
We rest our case. 
Now that Courtney is back in the fashion game, we may never see the death of the lacy, shapeless dress. Although, we really wouldn't have it any other way. 
No word yet on when the collection will launch online, but we suggest you have your dirty tiara ready.