'Glee' Actor Mark Salling Arrested for Alleged Possession of Child Pornography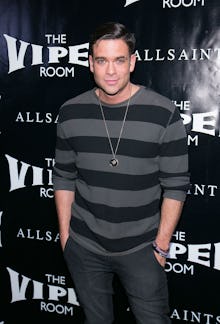 Gabriel Olsen/Getty Images
Salling, an American actor who is widely known for his role as Noah Puckerman on the TV series Glee, was arrested Tuesday for allegedly being in possession of child pornography, according to Crime Watch Daily. According to the show's sources, Salling was served a search warrant Tuesday morning by a special task force of the Los Angeles Police Department. Details of the arrest were not immediately known. 
Salling, 33, played "Puck" on Glee from 2009 to 2015. The actor was in the middle of filming Adi Shankar's God's and Secrets, a film from famed American filmmaker and director Shankar that's expected to be released in 2016, at the time of his arrest. 
According to Salling's  Internet Movie Database biography, Salling is a Dallas native who was homeschooled and raised in a "strict Christian home." 
In 2013, a woman named Roxanne Gorzela, a former playboy model, filed a lawsuit against Salling alleging sexual battery because he had forced unprotected sex with her, TMZ reported. Though the sexual encounter was allegedly consensual and the two were dating at the time, Gorzela said Salling ignored her insistence for protection. And soon after the incident, Gorzela confronted Salling about her lingering emotional and physical concerns. He reportedly responded with physical aggression, according to a police report.
According to the International Business Times, Salling agreed to a $2.7 million settlement to end the lawsuit. 
Dec. 29, 2015, 1:50 p.m. Eastern: This story has been updated.