'Downton Abbey' Season 6: Full Preview, Reviews and How to Watch Final Season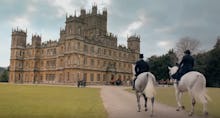 YouTube
Five years after the British drama series Downton Abbey premiered in the United States, it's wrapping up with a sixth and final season kicking off Jan. 3 on PBS at 9 p.m. EST. "What seems clear, as Downton strolls toward the finish line, is that the show's influence will reverberate well beyond its five-year run," Variety TV columnist Brian Lowry wrote in his review of the show's final season.
The season premiere will be available on the PBS website as well.
A preview for the final season doesn't reveal much of the plot, but Lowry said the season gets off to a slow start before "the plots deepens, building toward addressing long-festering issues, set against the backdrop of the receding of the great house's way of life, with characters well aware of the inexorable tide."
Without adding any spoilers, Slant magazine's Sal Cinquemani wrote that "it turns out [screenwriter Julian] Fellowes is a helpless romantic at heart, with all of his characters ... pairing off like lovebirds. For a series dedicated to supposed historical realism, Downtown Abbey wraps things up with a bow of pure fantasy."
The Emmy-award winning series was based on the 1989 novel To Marry an English Lord, WTOP reported, about American heiresses in the late 19th and early 20th century who relocated to Britain to exchange their money for power and recognition. While the show is only loosely based on the novel, its screenwriter Julian Fellowes told WTOP in an interview that he read the book before writing the series.