191 Million People's Voting Records Are Sitting Vulnerable on the Internet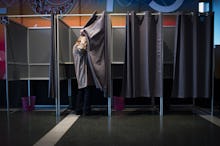 When you register to vote, you give over a few personal details that become public information — your date of birth, home address, ethnicity, name, political affiliation and plenty of other pieces of personal data.
Security researcher Chris Vickery has discovered a gargantuan online database that contains the public voting information of 191,337,174 American voters. Unlike leaked information from hacks like those of Ashley Madison or Planned Parenthood, the information isn't stored on the Deep Web or through the Tor network.
And for now, only Vickery and a small handful of others know where the massive, leaked database is hiding.
There are no social security numbers or financial information, but there's still enough personal information included that someone might not want bundled into a readily available database. In the hands of data brokers who might sell that information to marketers, that kind of demographic information is worth its weight in gold. One marketer estimated this particular dataset to be worth about $270,000.
Who leaked the data? Nobody knows. DataBreaches.net, the site to which Vickery first reported the existence of the massive data pool, started reaching out to private organizations who deal with this kind of data or whose customers might have leaked it. Of course, no one has taken responsibility yet.
For now, only Vickery and a small handful of others know where the massive, leaked database is hiding.
The folks at DataBreaches.net have also been informing law enforcement bodies like the FBI's field office in New York and the California Attorney General's Office, and federal and state authorities have begun investigating. One attorney, when told about the extent of the leak, simply responded: "Wow." 
In the meantime, the sloppy set of voter data remains sitting on the open internet, ready to be snatched up by whoever stands to profit.