Hillary Clinton Releases Ad Campaign in Iowa That Highlights the Wage Gap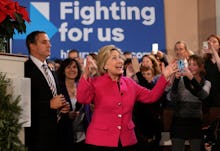 Steven Senne/AP
New television and radio ads from presidential hopeful and Democratic frontrunner Hillary Clinton began circulating in Des Moines; Iowa City, Iowa; and in parts of South Carolina on Tuesday, multiple outlets reported. Yet according to the New York Times, the TV spots that aired in Iowa were not formally announced to the public, though the candidate's campaign did accompany the South Carolina radio ads with a statement. The ads drew attention from the press on Tuesday for their message and tone, which some say closely mimic her No. 1 Democratic challenger in the race for the White House, Vermont Sen. Bernie Sanders.
Footage of the TV ad was not immediately available online, yet according to the Times, the ad being aired in Iowa trumpets: "On average, it takes three hundred Americans working for a solid year to make as much money as one top CEO. It's called the wage gap. And the Republicans will make it worse by lowering taxes for those at the top and letting corporations write their own rules."
Read more:
The spot goes on to promise that, as president, Clinton would work on lowering taxes for the middle class, raise the minimum wage and work on securing equal pay for women, the Times reports. 
In the radio ad that's running in South Carolina, Clinton chimes in with a similar message. 
"Families are stretched in so many different directions and so are your budgets," Clinton says in the ad. "Out-of-pocket costs for everything from prescription drugs to child care to college seem to go up a lot faster than wages."
A voiceover adds, "And African American families here in South Carolina often have to stretch even further with wages just not keeping up." 
"Boosting incomes for hardworking families so they can afford a middle class life is the defining economic challenge of our time," Clinton continues, and concludes by pledging the same goals as the TV commercial and promising to "get the job done for us."
"Income and Wealth Inequality" is the fist issue listed on Sanders' campaign page, and it's a topic the candidate has placed at the center of his campaign.
Though the dialogue in Clinton's most recent campaign ads might seem an awful lot like Sanders' rhetoric, it's important to point out that both "Wall Street and corporate America" and "Women's rights and opportunity" are subsections on Clinton's page detailing the issues that make up her campaign's core platform. 
In outlining those issues, Clinton takes aim at Wall Street as well as gender equality. "I am a proud lifelong fighter for women's issues, because I firmly believe what's good for women is good for America," Clinton said in September, according to her campaign page.