Advocates Want LeBron James to Stop Playing to Protest Decision in Tamir Rice Case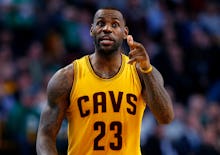 Advocates called on Cleveland Cavaliers forward LeBron James on Monday to refuse to play basketball in protest against a grand jury's decision not to indict Officer Timothy Loehmann in the 2014 killing of Tamir Rice. The hashtag #NoJusticeNoLeBron has been trending on Twitter ever since. 
Baltimore-based writer Tariq Touré is responsible for launching the campaign, which aims to leverage the influence James wields in the city of Cleveland, where Rice was killed, to draw attention to the issue. 
The act of withholding athletic services has been used as a social justice tactic throughout American history, most recently at the University of Missouri, whose football team, the Mizzou Tigers, refused to participate in athletic activities until then-University of Missouri system president Tim Wolfe resigned from his post. The demonstration stemmed from a series of racist incidents and other perceived injustice on campus which students felt Wolfe was ill-equipped to address. Wolfe resigned on Nov. 9, and the football players' strike was seen as an instrumental factor in his decision.
Rice was shot by Loehmann at the Cudell Recreation Center in Cleveland on Nov. 22, 2014. He died in the hospital the next day. Loehmann and Officer Frank Garmback were responding to a call that someone who was probably a juvenile was waving a probably-fake gun near the rec center. Loehmann opened fire on the boy within two seconds of pulling next to him in a patrol vehicle.
Cuyahoga County Prosecutor Tim McGinty, who oversaw the investigation into the shooting and presented evidence before the grand jury, was criticized for his conduct throughout the 13-month process. In one incident, he made public an expert analysis that claimed Loehmann acted "reasonably" in shooting Rice. That analysis was later contradicted by other analyses commissioned by the Rice family's attorneys.
Jonathan S. Abady, a lawyer for Rice's mother, told the New York Times, "We have never seen a prosecutor try so hard to lose a case."
James has yet to make a statement regarding the non-indictment, though he has been vocal in the past: In 2012, James tweeted a photo of himself and his then-teammates on the Miami Heat wearing hoodies in solidarity with Trayvon Martin, the black 17-year-old killed by neighborhood watchman George Zimmerman in Sanford, Florida.
James led the Cavaliers to the NBA Finals last year, where they lost to the Golden State Warriors after five games. The team is currently ranked No. 1 in the Eastern Conference, with a 20-9 record. The Cavaliers' next game is away Tuesday night against the Denver Nuggets.