GOP Candidates 2016: Who's Still in the Race for President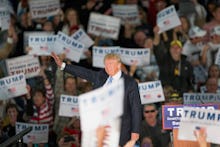 Scott Olson/Getty Images
As 2015 comes to a close, the crowded "clown car" that is the Republican primary ticket is slowly thinning out. The number of candidates seeking the GOP presidential nomination has dropped from 17 to 12 as we head into 2016. For those who have been more focused on the national weather than on national politics and missed former New York Gov. George Pataki (who was averaging an impressive 0% in the polls) quietly exiting the ring, Sen. Lindsey Graham's dropout announcement, and for anyone who's still unfamiliar with the name Jim Gilmore, here's a list of the Republican candidates who remain in the running for president.
Read more:
1. Donald Trump
Not only is Donald Trump still in the race, he's still its frontrunner, Real Clear Politics reports. Despite a tendency to offend broad swathes of the national voting population, foreign policy fumbles and some vacillation in his loyalty to the GOP, Trump is beloved by his supporters and could conceivably take his show all the way to the White House.
2. Ted Cruz
Not if Ted Cruz has a say in the matter, though. Nationwide, Real Clear Politics puts Cruz second behind Trump, but ahead of the businessman in Iowa. The Texas senator's gain prompted Trump to get prickly in early December: He began lashing out at Cruz on the campaign trail. Perhaps if Cruz would agree to "Netflix and Chill" with voters, he'd see a bump in his polling numbers. He won't, nor will he be dropping out of the race anytime soon.
3. Marco Rubio
Begrudging Florida Sen. Marco Rubio is presently third in line for the nomination, according to Real Clear Politics — thanks in part, perhaps, to his (unfortunately false) claim to fame as the killer of Obamacare. For now, Rubio will continue to focus on his presidential campaign and not on his senatorial career, much to former Florida Gov. Jeb Bush's chagrin/delight.
4. Ben Carson 
Dr. Ben Carson talks softly and carries 9.4% of the average GOP polls, according to Real Clear Politics. The Carson campaign may be flagging, but the candidate insists that he is moving forward as planned, even if the race has proved "pretty brutal" thus far.
5. Chris Christie
The New Jersey governor has clawed his way back from the kids' table and onto the GOP's main stage, reclaiming his spot among the leading candidates at the Dec. 15 Republican debate. Perhaps it's all his straight talk that's since won him Real Clear Politics fifth place in the GOP running. 
6. Jeb Bush
Also still running for president: Former Florida Gov. Jeb Bush, who continues to push back against accusations that he is "low energy" and to stand up to a bullying Trump, on the internet and IRL. The Jeb! campaign continues to roll along for now.
7. Rand Paul
Kentucky Sen. Rand Paul has never been among the frontrunners, but his last-minute polling figures in Iowa ushered him onto the main stage at the Dec. 15 debate. Of all 13 candidates, he's not doing the best, but he's also not doing the worst. Rand Paul: still in the race for the Republican nomination.
8. Carly Fiorina
Former Hewlett-Packer CEO and lone woman in the Republican candidate pool Carly Fiorina occupies RCP's eighth slot in the nominee pecking order. On Monday, Fiorina billed herself as the candidate to take down Clinton in the 2016 election, maintaining that the conversation shouldn't be all about gender while also making it mostly about gender, in typical Fiorina fashion.
9. John Kasich
Ohio Gov. John Kasich also made it back to the main event debate in December — where he talked frequently, if not mostly, about his daughter — and comes in at No. 9 in the Real Clear Politics ranking. On Tuesday, Kasich encouraged those protesting the recent Tamir Rice ruling to keep doing what they're doing, the Washington Post reported. "You need to be heard," he said, but added that they should conduct themselves peaceably and responsibly. This may also be his personal philosophy for winning the White House: Be present, but not too present.
10. Mike Huckabee
Some may say that the former Arkansas governor is a strong candidate for next casualty of the GOP nomination battle, but Huckabee insists that he's still in it to win it. Indeed, he's heading for Iowa imminently — and he's not leaving till January's over. Mike Huckabee is still fighting to be the Republican nominee, and he's hunkering down in the first primary state to make that happen.
11. Rick Santorum
Rick Santorum is a former Pennsylvania senator, allegedly the recent star of some ISIS propaganda and also, still a candidate for the presidency. 
12. Jim Gilmore
Who is Jim Gilmore? He used to be the governor of Virginia, and is the stealthiest of the Republican presidential underdogs. Gilmore officially entered the race on July 30, the Washington Post reported, but did not hit the ground running: As of Sept. 7, Gilmore had "not held a single formal campaign event with actual voters present," instead focusing on the all-important work of "setting up his campaign...to campaign," according to the Post. Also in September, he was snubbed for the second Republican debate, which he then dissected on Twitter. Although he is so far a mostly silent candidate, Jim Gilmore is, in fact, still running for president.