How to Generate Your 9 Best Instagram Pictures of 2015 Collage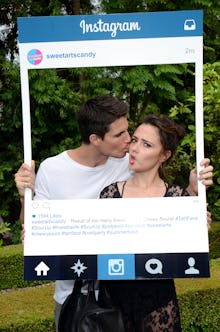 Tonya Wise/AP
We know what you're thinking: "That #2015bestnine collage is clogging my Instagram feed, but like, how can I make one because my year on Instagram was way more bomb than Kylie Jenner's or Kourtney Kardashian's and I want my followers to know." Look no further: Here's how to generate your own best nine Instagram pictures. 
It's simple: This 2015bestnine site curates a collage of any given Instagram account's nine most-liked photos of the year. All you have to do is visit the site, enter your Instagram username — or that of anyone you're curious about — and it will generate the collage for you (as of Tuesday afternoon, it could take up to 10 minutes because it seems everyone is doing it right now.)
The site will create a three-by-three collage of a user's most popular posts of the year and reveal the total number of "likes" the user received on every post from 2015 combined. Jenner and Justin Bieber both surpassed a modest 1 billion likes. Bieber didn't post his, but anyone can confirm by typing his username, justinbieber, in the search bar on 2015bestnine.com.
Kardashian shared hers on Instagram along with a heartfelt message about appreciating everything that happened in the past year and offered a platitude about how life works just the way it should. 
Chrissy Teigen's mom also shared her collage on Instagram, starring her daughter, John Legend, their unborn child and breakfast toast that resembles a teddy bear in a cheese blanket.
Facebook's annual Year in Review rolled out earlier this month, curating the most viral events of the year in politics, entertainment, global issues and other topics that were selected based on how much play they got on Facebook this year. Categories included the United States presidential election, Paris attacks and the refugee crisis, among several others.