American Idol Season 15 Judges — Here's Who's Coming Back and Who's Not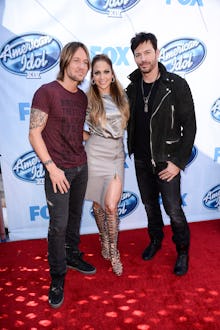 Dan Steinberg/AP
The final season of Fox's American Idol will premiere Jan. 6, marking the end of the singing competition show's 15-season-long run. In May, the network announced that the 15th season of the show would include veteran judges and American musicians Jennifer Lopez, Keith Urban and Harry Connick, Jr., and that longtime host and television and radio personality Ryan Seacrest would return for the final season.
According to the New York Times, at the height of its popularity, American Idol drew north of 30 million viewers and, for eight years, held the No. 1 spot for television shows on broadcast television. 
"American Idol, the original music show phenomenon, returns for its 15th – and final – season in January 2016, along with host Ryan Seacrest and judges Jennifer Lopez, Keith Urban and Harry Connick, Jr," Fox said in a statement. "It will be the ultimate celebration – a tribute to the past 14 seasons, the amazingly talented contestants and the millions of fans who tweeted, texted and championed their Idols."
"From the first-ever Idol winner, Kelly Clarkson, who continues to dominate the charts with three Grammy Awards under her belt; to Season Four winner Carrie Underwood, who has sold 15 million albums worldwide, with 16 No. 1 singles and five Grammy Awards, to Season 11 winner Phillip Phillips, whose debut single, 'Home,' has become the best-selling single of any Idol to date, American Idol is a bona fide cultural phenomenon," Fox continued in the statement. 
Here's just three of American Idol's most successful musicians, according to Fox:
The show's first star, Clarkson, ended her 13-year-long contract with American Idol in 2015, according to Billboard, and has grown in worth thanks to her tenure with the show, to the point where she might land between $1 million and $3 million per album, according to Billboard's sources. 
According to Rolling Stone, Underwood's sixth studio album, Storyteller, helped the singer break records. When Storyteller climbed to No. 1 on the charts after its release, Underwood became the first country singer to have all her records climb to the top of the charts within one week of its release. 
For his part, despite grappling with some legal drama, Phillips' 2014 album Behind the Light peaked at No. 7 on the Billboard 200, according to All Music, and his 2014 effort, the World From the Side of the Moon, peaked at No. 4 on that same chart.