Primary Elections: Voting Dates in Every State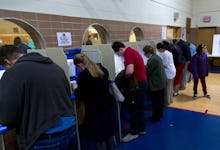 Darren Hauck/Getty Images
The United States primary elections are just around the corner, with the nation's sights set on Iowa as the state to host one of the first major hurdles in the presidential race to the White House. The Iowa caucus kicks off Monday, Feb. 1, as several Democratic and Republican candidates take to the state to win the support of the people. 
Following Iowa's primary comes New Hampshire's, taking place on Tuesday, Feb. 9. Leading up the kickoff of the national primary elections, two candidates have held strong poll numbers throughout their campaigns: Democratic frontrunner and former Secretary of State Hillary Clinton, and billionaire Republican frontrunner Donald Trump. 
Below are the dates the primary elections will take place across the nation in February, according to the New York Times:
Feb. 1: Iowa caucus
Feb. 9: New Hampshire primary
Feb. 20: Nevada's Democratic caucus, South Carolina's GOP primary
Feb. 23: Nevada's GOP caucus 
Feb. 27: South Carolina's Democratic primary 
For a full list of primary and caucus dates, click here.