Times Square Security New Year's Eve: Here's How NYC Is Vamping Up Anti-Terrorism Measures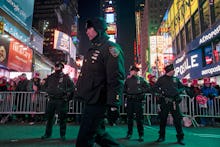 John Minchillo/AP
After a series of recent terrorist attacks in 2015 sparked global panic, New York City is vamping up it's counterterrorism measures ahead of one of the highest-profile days of the year — New Year's Eve. More than 5,000 police officers are set to man the city's famed Times Square during its annual New Year's Eve celebration, an event the city's officials said at a press conference Tuesday it started preparing for last year.
"On New Year's Eve, the department will be out in force," Mayor Bill De Blasio said at the press conference. "There will be a tremendous number of officers that you will see, there will be many officers you won't see." He said the police department would ensure that their preparations were "extraordinary." A police representative added that there's no credible threat to any New York event on New Year's Eve.
Officials said over 5,000 officers were assigned to the event and would be both in uniform and undercover on street level, below ground and even in the air and water. The officers will be equipped with a range of weapons and detectors including long guns, chemical and radiation detectors and specially-trained dogs, according to city officials. 
De Blasio added that this year's operation benefits from the department's new critical response command, authorized in June to work full time combatting terrorism. Officers will be inspecting attendees at 14 points around the designated area, NBC News reported, which stretches from 38th street to 59th street, De Blasio said at the press conference.
Beyond that, a team equipped with long guns will be positioned around 50 yards away for those trying to find ways around entry points, authorities told NBC. "We are very very confident that New Year's Eve in New York City will be the safest place in the world to be," Chief James Waters said.