This Café in Florida Is Dishing Out Opportunities for People With Autism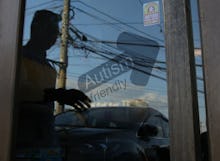 When companies consider a diversified workplace they often default to a narrow definition of "diversity" or miss the mark entirely. In Florida, a coffee shop called Artistas Café is filling one of the largest gaps in equal opportunity, boasting a full staff of employees with autism. 
According to CBS, the café, located in a Tampa Mercedes-Benz dealership, is just one branch of Artistas Academy, an organization Vicky Westra founded in 2011 after learning in 2001 that her daughter Gabrielle was autistic. Worried about Gabrielle's future, Westra channeled her concern into action.
As baristas, Artistas Café's eight employees learn marketable skills, including how to prepare coffee and small snacks, operate the cash register and interact with customers.
Russell, an Artistas employee, said in a testimonial video on their website that the job has given him newfound independence. He said, "I pay for my own expenses. I pay for my own food, my own gas. I got a car — oh my gosh. I still can't believe that." 
In Manila, Philippines, Puzzle Café opened in April — Autism Awareness Month — with a similar mission. On a larger scale, companies like Microsoft, Freddie Mac, Walgreens and German software company SAP have distinguished themselves by launching programs and partnering with organizations to hire full-time employees with autism. 
But there's a long way to go. According to Autism Speaks' 2012 report, the unemployment rate for autistic adults is about 85%, 17 times the national rate, which was 5% as of November.
Many consider "disability" a misnomer when it comes to describing autism. Andrew Richards, a regular customer at Artistas Café, told CBS Artistas challenged his own misconceptions about the capability, or "uniquability" as Westra calls it, of people who fall on the autism spectrum. 
"The first thing that came to mind was they're less functional. They can't operate in society. No, that changed my opinion actually," Richards said. "I think these people have the capability just like any other normal people."