New Year's Eve 2015 TV Specials: Where to Watch the Ball Drop in NYC This Year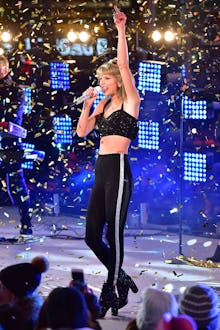 James Devaney/Getty Images
The year is rapidly drawing to a close and, with 2016 upon us, it's past time to lock in plans for New Year's Eve. The night will see no shortage of celebrations, though the array of New Year's Eve traditions will vary around the world. Yet if staying in with loved ones and watching the ball drop in New York City is on the docket this year, here's a roundup of television specials programmed for the night of the 31st to help backdrop the occasion.
Dick Clark's New Year's Rockin' Eve With Ryan Seacrest, described on its website as "The biggest live music celebration in show history," is a safe bet to catch all the New Year's Eve action. Broadcasting live from New York City, Brooklyn and Nashville, the show boasts performances from big-time musicians, captures the pulse of the scene in Times Square and features the annual ball drop. 
Spoiler alert: Taylor Swift, who performed in Times Square during last year's New Year's Eve celebration, will debut the music video to "Out of the Woods" during the televised special. Programming starts at 8 p.m. Eastern via ABC. 
Though it's hard to compete with classic programming like Clark's New Year's Eve show, this alternative gives option No. 1 a run for its money: Pitbull's New Year's Revolution. Head here to cast a vote to determine which song rapper Pitbull will perform during the televised event. Rapper Sean "Diddy" Combs will also make an appearance. 
NBC is hosting a multipart New Year's Eve celebration. The programming begins at 8 p.m. Eastern with celebrity toasts to 2015, followed by a gameshow and a performance by rock outfit Panic! at the Disco. New Year's Eve Game Night With Andy Cohen begins at 10 p.m. Eastern, and New Year's Eve With Carson Daly kicks off at 11:30 p.m. Eastern. Gwen Stefani will be performing. 
At 9 p.m., viewers can also head to CNN to catch New Year's Eve Live With Anderson Cooper and Kathy Griffin. Fans can use the hashtag #AndersonGray or #AndersonDyed to cast a vote on whether or not they like the newscaster's dye job. 
To help build the hype for what's sure to be an epic New Year's Eve, here's a series of photos that capture New York City's Times Square on New Year's Eve 2014: