New Year's Eve NYC 2015 Is Going to Be Madness — Here Are the Biggest Events to Attend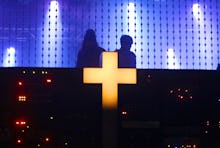 Barry Brecheisen/AP
If there's one night to do it big, it's New Year's Eve. And if there's one place to do that, it's New York City. But the city is basically synonymous with mayhem and is known for its over-the-top New Year's Eve parties as much as it is for the annual dropping of the illuminated Times Square ball, which has been occurring since 1907, according to its website. 
The city will be overloaded on the last day of 2015. About 1 million people are estimated to pack into Times Square for the ball drop, with over 1 billion tuning in from the comfort of behind their televisions, CNN reported. There'll also be more than 5,000 police officers keeping watch to ensure that the ball drop is safe and secure.
But that's far from being the only celebration in town. Below is a list of equally exciting events — many with open bars — to ring in the new year.
NYE 2016 with Justice, Gesaffelstein, Bob Moses
French DJ duo Justice is rolling into town along with Bob Moses and Gesaffelstein for those looking for a house-heavy party to attend. Justice is in the midst of their third LP, so this could be the chance to hear a sneak peek, according to Dancing Astronaut. Bonus cool factor: It's taking place in a secret warehouse in Brooklyn. Tickets can be found online from Jukely, which is hosting the event.
Brooklyn Bridge walking tour
Maybe clubs and bars aren't your thing. If that's the case then another spectacular alternative is to catch the fireworks via the Brooklyn Bridge, which go off at midnight in various parts of the city and Brooklyn. The bridge also supplies views of the Empire State Building's light show. While you can do that on your own, you can also book a tour with a licensed NYC tour guide.
Phish at Madison Square Garden
Rock band Phish is hitting Madison Square Garden for four shows in a row, according to its website. Those who couldn't grab tickets but are total Phish heads can watch a live webcast of the show online.
New Year's Eve at the Comedy Cellar
The Comedy Cellar, where Jon Stewart and Louis C.K. were surprise hosts this summer, is hosting two sets of shows at both of its locations for those looking for a good laugh rather than sweaty dancing people. Some of the headliners include Gregg Rogell from Louie, Michelle Wolf from Late Night With Seth Myers and Allan Havey from The Office. Tickets can be bought online. 
Sleep No More winter masquerade
New York's critically acclaimed silent but immersive show Sleep No More is hosting a dramatic masquerade party that includes a "royal feast," Sleep No More show and masquerade party with an open bar, of course. Guests must wear black, silver or gold. Tickets can be purchased online, and the event takes place at the McKittrick Hotel.
BangOn!NYC
Another — but very different — immersive event is the BangOn!NYC party, which takes place in a giant 30,000-square-foot warehouse in Williamsburg/Bushwick transformed with 3-D projections, art installations and two dance floors manned by DJs. Get tickets online. 
Breakbot and Irfane
Another French DJ helping New York ring in the new year is Breakbot, who will release his second album Still Waters in February, with a show at Slake nightclub, according to Brooklyn Vegan. Singer Irfane, who accompanies some of Breakbot's songs, will join him in the show. This is Breakbot's only North American show before starting a European tour, so fans catch him while you can by getting tickets here.