Native American Designers Are Behind More Clothes Than You May Realize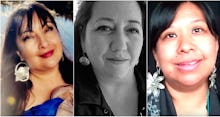 Native American fashion is often greatly appreciated by designers and shoppers — that is, if you count the times where Native-influenced designs pop up on runways or go on sale on socks and T-shirts at the mall.
Yet rarely are Native Americans themselves credited for inspiring much of the "Native" designs that populate the fashion industry on all levels. In the best cases, we overlook where the fringe, beading and prints really started; in the worst case scenarios, Native Americans' work is outright stolen. That sort of cycle makes it harder for Native American designers to break into the mainstream fashion industry. 
It's also part of the reason why it's probably difficult to name Native American designers off the top of your head. But that doesn't mean there aren't plenty of Native designers who've left their mark on fashion. Here are just a few of the designers and artists who've earned their spot in the history books.
Lloyd Kiva New established a school and counted Eleanor Roosevelt as a fan.
Lloyd Kiva New stands out in any list of influential Native American designers because of his enormous legacy. New was a World War II veteran who dove into fashion design after returning to the United States. He soon opened up a shop where he sold his work (as well as at retailers like Neiman Marcus) in the 1940s, according to the New York Times. His Cherokee heritage was evident in the popular, so-called "Kiva bags." In 1951, he became the first Native American to present his work at an international fashion show. Oh, and Eleanor Roosevelt visited his boutique in 1946. 
"He had beautiful specimens of leather work — bags and belts and purses and beanies decorated with Indian silver work," she wrote. "Very expensive, but they would long outlast the average expensive factory-made leather goods."
In 1962, New co-founded the Institute of American Indian Arts in Santa Fe, New Mexico, which remains the only four-year fine arts school dedicated to Native American and Alaskan Native arts, according to its website. "The freedom to express should not be hindered by ideas that Indians did the best work they could do in 1890," he once said, according to the Santa Fe New Mexican. His efforts helped lay the groundwork for designers and artists in all types of media.
Frankie Welch designed outfits for five first ladies of the United States.
Frankie Welch enjoyed a career working with several administrations in the White House, from the Lyndon Johnsons to the Carters. Welch, who is of Cherokee descent, is known for her scarf designs. The first scarf she designed contained the Cherokee alphabet, and she went on to design more than 4,000 scarves and dresses after that. All in all, she created clothing for five first ladies and designed ties for seven American presidents, according to Boston Magazine. The green dress she designed for Betty Ford to wear at two state dinners is on display at the Smithsonian Institute.
Costume artist Pilar Agoyo helped create iconic looks for blockbuster movies.
Pilar Agoyo is a fashion designer known for using unusual materials like vinyl and adding a bit of flair to her regular fashion work, like sending a model down the runway with large silver wings. She's also incorporated newspapers, masking tape and hangers into her work. It makes sense, then, that Agoyo also works as a costume designer. Her credits include work on films like The Avengers, Indiana Jones and the Kingdom of the Crystal Skull, Cowboys and Aliens and 3:10 to Yuma.
Marcus Amerman's work made it to the pages of Elle.
Marcus Amerman graced the pages of Elle in 1989, a rare instance of a magazine choosing to showcase the work of a contemporary Native American designer. Amerman is of the Choctaw Nation of Oklahoma and is known for creating realistic portraits using beads, sometimes called "photo-beadalism" —like this one of President Barack Obama.
Pottery-maker Virgil Ortiz worked with Donna Karan for a groundbreaking runway collection.
Virgil Ortiz's career took a dramatic turn in late 2002 when the designer Donna Karan walked in to his shop in Santa Fe, New Mexico, and bought out his entire fashion collection. Ortiz was already an established pottery-maker, from a long line of potters before him, and his clay figurines feature dark brushstrokes and designs inspired by his native Cochiti Pueblo. In 2003, Ortiz worked with Donna Karan on a collection featuring her dress silhouettes and prints based on his Pueblo designs. Ortiz later launched his own collection of scarves and bags. handbags.
Patricia Michaels made history by showcasing her work during New York Fashion Week.
Patricia Michaels is a Taos Pueblos native of New Mexico with a career that spans more than two decades. But she became a household name in 2012 thanks to Project Runway, when she became the first Native American contestant on the show — and a finalist in the competition's 11th season. Two years earlier, she became the first Native American designer to showcase her clothing collection in New York City during New York Fashion Week. Her work veers toward a more contemporary aesthetic that eschews much of the stereotypes about Native design.
Christi Belcourt's artwork inspired a Valentino runway collection.
Christi Belcourt is a Métis artist from Ontario, Canada. Her work has always closely been tied to her indigenous background and often has a streak of activism intertwined. In 2014, she was recognized for a traveling art installation she created in tribute to the indigenous women who have gone missing in the country, with almost 2,000 beaded moccasins tops (called "vamps"). The exhibition, called "Walking with Our Sisters," received the 2014 Ontario Arts Council Aboriginal Arts Award, one of the highest honors in the country given to artists, according to Indian Country Today. 
Valentino also created a runway collection inspired by one of Belcourt's paintings, "Water Song." Valentino's fabric designer, Francesco Bova, was so inspired by her painting, which is based on indigenous beadwork, that he turned it into fabric for Valentino's Resort 2016 collection, according to the Globe and Mail.