The 11 Most Highly Anticipated Albums of 2016 — And What We Know About Them So Far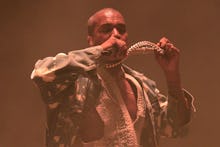 2015 was a hot, beautiful mess as far as music was concerned. The world waited from the beginning of January for game-changing albums. Big name innovators like Kanye West, Rihanna and Frank Ocean were rumored to have new releases. They remained just rumors. In their place, we got a ton of surprises — some welcome (25), some hilarious (Meow the Jewels) and some off-putting (Miley Cyrus and Her Dead Petz). 
Whispers about the next years' round of music have begun to roll out, some speaking with more conviction than others. Several artists, like Missy Elliott and the Gorillaz, will likely be making their long-awaited returns this year. Others, including Chance the Rapper and Run the Jewels, will be looking to follow up on massive breakout successes. Here's a list of the 11 most highly anticipated albums that will hopefully see the light of release sometime very soon.
Missy Elliott, TBA
In November, Missy Elliott set the world on fire when she dropped her latest single and video, "WTF (Where They From)." It reminded the world how sorely it has missed her imaginative, futuristic funk. It was just a taste, though, and has only whet listeners' collective appetite for more. 
Elliott's working on a new album with her producers Timbaland and Pharrell, whom she described in a recent Billboard interview as "the only two producers that understand me." The record will likely come in 2016, but Elliott is taking her time with the project, likely following Adele's playbook. Elliott recently praised the British songstress' patience in waiting until the music felt right in an I-D interview. "When I go like this," she told Billboard, referring to the single and her new upcoming music, "you know that it's something I totally believe in."
Chance the Rapper, TBA
Chance the Rapper's backing band Social Experiment made its record debut in 2015. They released Surf, helmed by Donnie Trumpet, which sounded like a Chance the Rapper project. His playful vocals skittered over almost every track's quirky instrumentals. Yet there was a lot more Lion King-esque theatricality than hip-hop. 
He's been teasing his third mixtape on Twitter for some time now, releasing two track so far: "Angels," which he debuted with Stephen Colbert's on help on the Late Show, and "Somewhere in Paradise." He performed the latter on Saturday Night Live, making him the first independent artist to perform on the program. Because Chance has no label to answer to in terms of release dates or marketability demands, everything about the album is completely unpredictable.
Haim, TBA
The sisters of Haim had a relatively quiet 2015. They reportedly started work on their sophomore effort in January, a follow-up to their 2013 debut Days Are Gone. judging by a tweet showing producer Ariel Rechtshaid leaning over a computer. Rechtshaid produced Days Are Gone, and this year he wrote and produced with Carly Rae Jepsen and Adele.
At the beginning of 2014, they shared that Kanye West was serving as inspiration for their coming album. "We're always writing and figuring out new vibes and trying to get our inner Kanyes out," the Haim sisters told Rolling Stone. "We're going to tap into our inner Kanye."
Drake, Views from the 6
Toronto's hometown star was the hottest topic in hip-hop in 2015. His If You're Reading This It's Too Late had publications scrambling to define the word "mixtape." The ghostwriting accusations thrown his way by Meek Mill got all of hip-hop debating the merits of authenticity and the boundaries of collaboration. Drake's movements dominated the conversation in the 2015 — and he didn't even release a full-length LP. 
That LP might be coming in January.
What made his If You're Reading This It's Too Late a mixtape rather than an album was the level of effort he put in. "There's corners cut, in the sense of fluidity and song transition, and just things that we spend weeks and months on that make our albums what they are," he told the Fader in September. For Views from the 6, he'll be linking back up with Noah "40" Shebib, his go-to producer and songwriter behind so many of his hits.
Run the Jewels, Run the Jewels 3
Run the Jewels, the punk-tinged political rap duo of El-P and Killer Mike, offered fans more hints of their third album Monday. Said album is currently known only as Run the Jewels 3.
The shared snippet smacks of the same grimy, hard-hitting style that made their last two albums such thrills. It also suggests they'll be experimenting with more odd rhythmic feels, like those present on "Blockbuster Night Part 1" — by far the best use of the castanet in 2014 hip-hop. Their most recent track "Rubble Kings Theme (Dynamite)," released via Adult Swim's singles program, also sported more of that breakneck swing.
Having a new set of Killer Mike and El-P's poignant political critiques laid over these head-knocking beats will undoubtedly be an eye-opening asset for fans going into the 2016 election.
Death Grips, Bottomless Pit
In 2014, the ever-subversive Death Grips announced they would officially "break up" after their double album Powers That B hit the internet. However, it now seems that this was another example of Death Grips' simply trying to raise hell and get a rise out of their fans.
The punk hip-hop project famous for leaking music industry secrets and bailing on shows last-minute (leaving fake instrument setups for fans to destroy) announced another LP, Bottomless Pit, on their Facebook page. The announcement came with a 14-minute video of actress Karen Black, who died in 2013, reciting lines from a film the band's Zach Hill was developing. It's the first puzzle piece in another wildly unpredictable album drop.
The xx, TBA
After releasing one of 2015's most intriguing electronic projects, Jamie xx will return to his laid-back group the xx in 2016 to release the band's third album. 
"It feels a lot more free than when we were making the last record," Jamie xx shared as far back as October 2014 in an interview with the Fader. However, according to a September Uproxx interview, it seems the band is still searching to find a way to summarize what that freedom sounds like. "I can't really say yet because we're not far enough along to have a theme or idea," Jamie xx said. "We're just really starting to make music again. You never really know until it's done."
Radiohead, TBA
A mistranslated interview from Radiohead's Johnny Greenwood sent the music world spinning this past October. The 44-year-old lead guitarist suggested that the band had finished recording and would be launching into post-production work soon. He also seemed to suggest the band would be touring in 2016. After a slew of outlets ran with this news, he took to Twitter to set the record straight. 
Fans will have to wait on the results of that listening session to see if there's an album peeking through all the recordings. If the pictures collaborator Robert Ziegler shared in September are any measure, it may be shaping up into an epic, fully orchestral affair.
Gorillaz, TBA
In October, Blur frontman Damon Albarn shared news few could have seen coming: He announced their animated, alternative hip-hop project, the Gorillaz, would be returning for an album in 2016. 
Albarn had previously gone through a very public fall-out with the group's animator, Jamie Hewlett. He told the Guardian in 2012 that new Gorillaz music was "unlikely." Yet, sure enough, in January, Hewlett shared new images of Noodle and Murdoc on Instagram, followed by Russel and 2D.  "I'm working on it at the moment, and it's going very well," Hewlett told DIY in October. "I'm very excited. I don't want to say too much about it, but I'm at that phase of experimentation."
Save the iPad-produced The Fall, this will be the group's first full project since 2010's Plastic Beach. 
Ghostface Killah and MF Doom, TBA
The Wu-Tang Clan's Ghostface Killah, who recently appeared on Billboard's controversial "10 Best Rappers of All Time" list, has been teasing a collaborative project with masked underground rapper MF Doom ever since 2005, when the two appeared on the cover of Mass Appeal magazine. It seems that project is finally ready.
"I talked to Doom's people. Doom is ready now," Ghostface Killah said in an interview with LetsLinkRadio. "So, he said he wants to drop that in February. He said he wants to drop that in February."
The pair released two tracks, 2011's "Victory Lap" and "Lively Hood," in September as a part of Adult Swim's singles program.
Kanye West, Swish
Kanye West's camp has switched up names, release dates and descriptions for his coming album so many times over the past year, it's hard to keep track. In February, he told Style the album was "80% done" and would be "bars, songs, cookout music that just feels good." In May, he announced it would be called So Help Me God, then changed it to SWISH with a tweet later that month. In September, he changed up the description, likening it more to a "sonic landscape, a two-year painting" rather than BBQ music.
In November, Kanye collaborator Travis Scott reported the album was coming "very soon," adding that it was "lit." Seth Rogen, Pusha T and Lamar Odom all seconded the impression. But there's still no album. It's all been a very exciting mess.
It's equally difficult to pin down a track list even though we've heard what might amount to half the album. The previously released "Only One," "All Day," "Wolves" and "Fade" will likely make the cut, but who really knows? Only Yeezus knows.