George Pataki Drops Out of GOP Presidential Race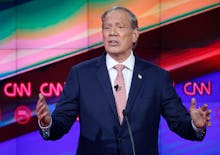 Former New York Gov. George Pataki is set to withdraw his bid for the 2016 Republican presidential nomination, after failing to gain traction in his quixotic quest to lead a GOP increasingly out-of-step with his brand of Northeastern Republicanism.
The Boston Globe's James Pindell broke the news Tuesday afternoon, writing that Pataki is informing supporters of his decision to step aside:
After flirting with presidential bids in 2008 and 2012, Pataki finally launched a campaign in May, although few observers ever expected a pro-choice, climate change-affirming, LGBT-friendly New Yorker to get far in an increasingly conservative Republican Party.
And he never did. Pataki exits the race where he started it, with less than 1% support in national polls and no real constituency within the party.
Elected governor of New York in an historic upset over Democratic incumbent Mario Cuomo in 1994, Pataki went on to serve three terms in Albany before opting not to seek re-election in 2006. 
Like former New York City Mayor Rudy Giuliani, who unsuccessfully sought the GOP nod in 2008, Pataki staked much of his bid on his stewardship after the Sept. 11, 2001 terrorist attacks, a prominent theme in his campaign announcement video.
Pataki follows former Texas Gov. Rick Perry, Wisconsin Gov. Scott Walker, Louisiana Gov. Bobby Jindal and South Carolina Sen. Lindsey Graham in exiting the GOP race. Twelve Republican hopefuls remain, with businessman Donald Trump still atop most state and national polls.