Worst Year in Mosque Attacks Continues With Bacon Wrapped Around a Las Vegas Mosque's Door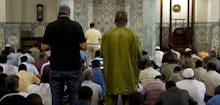 Muslims who showed up to worship at the Masjid-e-Tawheed mosque on Sunday in Las Vegas found bacon wrapped around the front door's handles, NBC's News3LV reports. Surveillance footage from the mosque shows a man unwrapping a package of bacon, wrapping it around the handle and even stuffing some of the bacon in his mouth while he carries out the vandalism. 
Police have yet to locate the man. The video footage also shows a person discovering the bacon and then having to run and grab a paper towel to unwrap it from the door handle. According to the Quran, the handling of pork is forbidden. 
News3LV released surveillance footage from the mosque, shown in part in the broadcast. 
The Council on American-Islamic Relations called the act a "desecration." Earlier this month, the organization reported that 2015 was the worst year on record for the number of incidents targeting mosques. In November, a mosque in Texas found ripped Quran pages smeared with feces on its front steps. 
December has been a particularly harsh month for anti-Islamic sentiment here and abroad. Earlier this month, Mic reported that two mosques — one in Philadelphia and one at the University of Western Australia — found severed pigs heads on mosque grounds. Two severed pigs' heads were found in a Muslim school in the United Kingdom, and two separate arson investigations — one in Coachella Valley, the other on Christmas Day in Houston — add a deadly tinge to the recent wave of mosque attacks. 
One Alabama mosque was so terrified of growing anti-Islamic sentiment that they refused to open a tin of Christmas cookies left by a well-wishing neighbor. 
All is not lost, however. In the face of Islamophobia, people like Mona Haydar have worked to create bridges between Islam and other communities. Haydar began a "Talk to a Muslim" stand in Cambridge, Massachusetts, and offered those who engaged in a conversation free donuts and coffee.