Guns N' Roses Will Reunite at Coachella 2016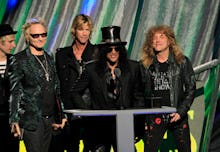 Tony Dejak/AP
Good news, Guns n' Roses fans: Not only might the iconic hairband reunite for a tour in the near-to-mid future, but they're confirmed for at least one stop on 2016's festival circuit lineup. Billboard reported that the rock outfit will headline Coachella in April in Inido, California. The announcement is surprising, considering frontman Axl Rose's statements in 2012, when he declined to be inducted into the Rock and Roll Hall of Fame along with the rest of the band.
"There's a seemingly endless amount of revisionism and fantasies out there for the sake of self-promotion and business opportunities masking the actual realities," he wrote in a letter to the Hall of Fame. "Until every single one of those generating from or originating with the earlier lineups has been brought out in the light, there isn't room to consider a conversation let alone a reunion."
Why so stubborn? While Rose ended up apologizing for his absence, his initial desire to leave the past in the past may have been more about his feud with guitarist Slash than anything else. But now that their arguing days are allegedly behind them, the two have agreed to share a stage again. As Billboard reported, this will be the first time the two have performed together since a 1993 show at River Plate Stadium in Buenos Aires.
More good news: According to Billboard, the band is also hammering out details for a possible 2016 stadium tour, with the first stop slated for the new Las Vegas Arena on Apr. 6. Rumors about a possible reunion tour began to circulate when the band recently added a video of an old concert to its Facebook page and updated its website to feature the GNR logo of glory days gone by; a bizarre supercut of GNR concert shots played at Star Wars: The Force Awakens screenings only piqued fans' interest. But a GNR concert is expensive to stage: Consequence of Sound reports that the group has been requesting many millions of dollars to perform at festivals, and Billboard corroborates, setting the asking price at $3 million per concert. 
Worth it? Maybe. Billboard reported that the band's first album — Appetite for Destruction, which topped the Billboard 200 chart for about a month — has sold 18 million copies and gave the world the Hot 100 No. 1 single, "Sweet Child O' Mine." All told, Billboard says, they've sold some 44.5 million albums in the U.S. alone. Band members have rotated throughout the years: Currently, the outfit comprises Rose, Richard Fortus, Dizzy Reed, Frank Ferrer, Tommy Stinson and Christ Pitman, plus Slash it now seems.