Priest in the Philippines Apologizes for Using Hoverboard During Christmas Mass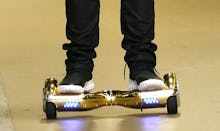 Stephen Brashear/AP
Hoverboards are on fire these days — 2015's trendiest toy is popular with adults, children, Justin Bieber and, BuzzFeed reported, at least one Catholic priest in the Philippines who made the scooter a festive feature of his Christmas mass. Because we live in the age of smartphones, it only took one day for a video of the holy roller to hit Facebook. And while the internet applauds this hoverboarding priest, according to BuzzFeed, the Diocese of San Pablo does not. 
"That was wrong," the diocese said in statement Tuesday, reported Rappler, a Philippines-based news site. "The Eucharist demands utmost respect and reverence. It is the Memorial of the Lord's Sacrifice. It is the source and summit of Christian life."
Read more:
The Eucharist is potentially quite lucrative as well. The video links to the website of French hoverboard purveyor, Wee-Bot. While the priest's preferred brand has not yet been disclosed — and while he does seem a strange choice for brand ambassador — the video has received upward of 14 million views, making the hoverboard's mass appearance pretty effective product placement.
The wayward priest, Rappler said, issued an apology for his heretical gaffe. "The priest said that it was a wake up call for him," the diocese said, adding that he'd be taking a little break from his parish. "He acknowledged that his action was not right and promised that it will not happen again." 
And indeed, a repeat offense seems unlikely: According to Rappler, hoverboards are currently under threat of extinction in the Philippines, which is considering banning them because of the risk they pose riders — both to their souls and their general safety.