Presidential Election Calendar 2016: Key Dates for Voters Deciding US' Next President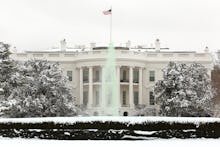 Yuri Gripas/Getty Images
Heading into the new calendar year, the United States is also gearing up for an election year, and there's a bevy of debates, caucuses, primaries and national conventions on deck before, finally, we arrive at Election Day on Nov. 8.
There are a fair number of candidates still in the running, particularly in the GOP pool, yet as of Wednesday, two candidates were leading in the race to the White House — former Secretary of State and Democratic frontrunner Hillary Clinton and Republican presidential hopeful Donald Trump. 
Clinton and Trump are neck-and-neck, according to a Monday poll via Rassmussen Reports, which says 37% of U.S. voters would support Clinton and 36% would support Trump. Though Trump is leading in the polls among his Republican challengers, a Dec. 22 poll from Quinnipiac University suggests that 28% of Republican voters "would definitely not support" the candidate should he win the Republican ticket.
"Half of American voters say they'd be embarrassed to have Donald Trump as their commander in chief and most Americans think he doesn't have a good chance in November, but there he is still at the top of the Republican heap," Tim Malloy, the assistant director of the university's poll, said. "Hillary Clinton tops him. Sen. Bernie Sanders hammers him, and Sen. Ted Cruz is snapping at his heels. Can a candidate that half the American electorate thinks is an embarrassment win in November?"
Debates
For the Democratic candidates, three debates are up for 2016, the first of which will take place on Jan. 17. NBC News will host the first Democratic debate in Charleston, South Carolina, which begins at 9 p.m. Eastern. PBS will host the second debate on Feb. 11 in Wisconsin and the Univision Democratic primary debate will take place on March 9 at Miami Dade College. Aside from Clinton, only two candidates remain — Sanders and former Maryland Gov. Martin O'Malley.
The Republican candidates will gather seven more times to debate before the general election. The dates are Jan. 14, Jan. 28, Feb. 6, Feb. 13, Feb. 26, March 10 and one other debate in March hosted by Fox, the date of which has yet to be scheduled. 
Unlike the Democratic party, there's no small number of Republican candidates still in the running. Trailing Trump is Texas Sen. Ted Cruz, Florida Sen. Marco Rubio, retired neurosurgeon Ben Carson, New Jersey Gov. Chris Christie, former Florida Gov. Jeb Bush, Kentucky Sen. Rand Paul, former Hewlett-Packard chief Carly Fiorina, Ohio Gov. John Kasich, former Arkansas Gov. Mike Huckabee, former Pennsylvania Sen. Rick Santorum and former Virginia Gov. Jim Gilmore. 
Primaries
In February, a primary for both parties will take place in New Hampshire on Feb. 9, followed by a Republican primary on Feb. 20 and a Democratic primary on Feb. 27 in South Carolina.
According to the Wall Street Journal's election calendar, Democratic and Republican primaries in Alabama, Arkansas, Georgia, Massachusetts, Oklahoma, Tennessee, Texas, Vermont and Virginia will take place on March 1, followed by a March 5 primary in Louisiana. 
A Republican primary will be held in Puerto Rico on March 6 and democrats in Puerto Rico will vote on June 5. A Republican primary in Idaho will follow on March 8 though democrats in Idaho will vote on March 22. The Michigan and Mississippi primaries for both parties will take place on March 8. 
March 15 will see primaries in North Carolina, Florida, Illinois, Missouri and Ohio, followed by the Arizona primary on March 22. Wisconsin's primary follows on April 5, as does the New York primary, on April 19. Primaries in Connecticut, Delaware, Maryland, Pennsylvania and Rhode Island will take place on April 26.
In May, the Democratic and Republican primaries in Indiana will take place on the 3rd, followed by a democratic primary in Nebraska on March 5 and a republican primary in Nebraska on May 10. The West Virginia primary will also be held on May 10, followed by the Oregon primary on May 17, coinciding with the Kentucky Democratic primary. The republican democratic primary in Kentucky is on March 5. Lastly in May, the Washington state Republican primary will kick off on the 24 followed by the democratic primary on March 26.
Primaries in California, Montana, New Jersey, New Mexico and South Dakota will take place on June 7, trailed by a Democratic primary in the District of Columbia on June 14. Republicans will vote in the District of Columbia on March 12.
The Democratic National Convention will run from July 25 to 28 in Philadelphia, and the Republican National Convention will take place July 18 to 21 in Cleveland.