Carrie Fisher Just Gloriously Closed Out 2015, the Year of Clapping Back at Body-Shamers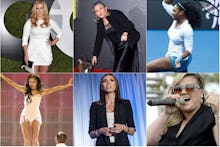 The sassy and delightful Carrie Fisher was barely into her twenties when she was first cast in the role of Princess Leia. When she first appeared onscreen in an iconic gold bikini in Return of the Jedi in 1983, the body-shaming trolls of Twitter likely weren't even born yet. But now that Fisher is 59 and appearing in Star Wars: The Force Awakens, body-shaming Twitter trolls are coming out in full (may the) force (be with you) — and their tweets are more garbage than Darth Vader's stank breath (assuming he had breath).
After seeing Fisher's appearance in the new film, some tweeted they were "stunned" at how "fucking old" they feel the actress has gotten. So Fisher decided to give a lil' clapback to the haters with a great tweet that made excellent use of the phrase "blow us."
Then she blessed us with this follow-up tweet:
Fisher using her social media platform to respond to a bunch o' losers with body-shaming opinions on her physical appearance feels like an appropriate event to close out 2015, a year in which a number of female celebrities decided to do the same.
Typically the result of weight-related criticisms (either for being too fat or too thin, because you can literally never win — hey, that rhymed!), here are just a few of our favorite responses from the year that proved trolls should talk shit about women's bodies at their own peril.
Kelly Clarkson
British TV personality Katie Hopkins insulted Clarkson's weight on Twitter back in February, writing, "Jesus, what happened to Kelly Clarkson? Did she eat all of her backing singers?" This was, for lack of a better term, quite mean n' bitchy. (Mean N' Bitchy, a new fragrance from Katie Hopkins!)
But then! In a Mariah Carey-esque display of flawless shade, the "Piece by Piece" singer told Heat magazine that she doesn't even know who Hopkins is. And that either way, she couldn't give less of a shit what a judgy mean girl thinks about her body to begin with.
"I've just never cared what people think. It's more if I'm happy and I'm confident and feeling good, that's always been my thing," she told the mag. "And more so now, since having a family — I don't seek out any other acceptance."
Serena Williams
One of the greatest athletes of all time, NBD, Williams faced numerous body-shamers (of both the racist and sexist variety) throughout 2015. But when Good Morning America's Robin Roberts asked her to share how she deals with all the hate, Williams gave an inspiring answer that shows she really isn't affected by it because she's too busy winning at life.
"It's so important to look at the positives," she said. "Whenever I get caught up looking at all the negatives, it can really bring you down. I just don't have time to be brought down. I have too many things to do, you know. I have Grand Slams to win. I have people to inspire. And that's what I'm here for."
Pink
Back in April, Pink tweeted out some photos of her and her daughter along with captions about how her recent happiness-inspired weight gain led her daughter to describe her belly as "squishy." The pics were cute, the captions were cute, the sentiment was cute. The aggressive fat-shaming that followed was v. not cute.
But luckily, Pink is a gem and she didn't let the haters bring her down. She decided to pen an open letter talking about how she feels beautiful at her new size and that people should, um, maybe not give so much of a shit about her weight in the first place.
Giuliana Rancic
Rancic's thin appearance at the 2015 Golden Globes in January led to a storm of skinny-shaming bullshit. She offered a response to the noise in April, though, telling People that she had lost a bit of weight due to her treatment for breast cancer.
"I'm sorry that some people think I'm disgustingly skinny, as they put it, but there's nothing I can do," she told the magazine. "I'm lucky that I even have the type of cancer that reacts to the medicine."
She added that she does, in fact, have a healthy appetite for food: "I eat more than any of my friends ... I eat a very robust, healthy, balanced diet and dessert almost every night. I'm not hiding from anything." 
Demi Lovato
In August, Lovato posed for the cover of Cosmopolitan and was then essentially shamed for having a boob, as some retailers felt that her visible side-boob in the cover shot was too racy for store shelves.
Demi wasn't a fan of the situation, and promptly tapped over to Instagram to post a letter about how it took her a long time to learn to not be ashamed of her body, and SHE'LL BE DAMNED if she's gonna let some dumb boob-fearing protestors get in the way of that.
Amy Schumer
Amy Schumer basically dominated 2015, and one of the highlights of her reign was the infamous "catch a dick" speech that went down back in June. While she had expertly clapped back at fat-shamers in the past, her comments while accepting a Trailblazer Award at the 2015 Glamour Awards in London were short, sweet and to the point.
"I'm like 160 pounds right now," she proclaimed, "and I can catch a dick whenever I want." It was a moment of vindication for anyone who's ever been told that people who are overweight (or even just of average weight!) aren't worthy of love.
Ariana Grande
After an Instagram commenter tagged Grande in comment stating that he wouldn't "prefer" her over actress Ariel Winter because "curves are sexy, sticks aren't," the singer posted a big ol' note about how uncool it was for this random guy to skinny-shame her.
"You know what is NOT sexy?" she wrote, "misogyny, objectifying, labeling, comparing and body shaming!!! Talking about peoples' body's [sic] as if they're on display ASKING for your approval/opinion. THEY ARE NOT!!!"
Read all of Mic's year-in-review coverage here.