If You Loved Oscar Isaac in 'Star Wars,' You'll Love Him in These Movies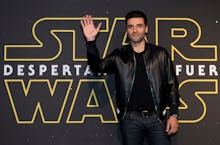 Oscar Isaac is officially the internet's new boyfriend. Both in Star Wars: The Force Awakens and out of it, he's charmed fans of the franchise thoroughly. His character Poe Dameron's close friendship — potentially more? — with Finn (John Boyega) is the highlight of the film for many:
For others, Isaac's press tour antics are more enjoyable, from the subtle (playing with a doll of his character)...
...to the intense (singing Led Zeppelin with his costars):
The love affair has been quick and passionate — but for Isaac, his career has been far less sudden. Isaac has been turning in stellar performances for years, slowly building a career that's not only internet worship-worthy, but (pardon the pun) Oscar-worthy. For those crushing on him with a need for more, here are five essential performances to check out. 
Drive
Long before Isaac was turning in transfixing lead performances, he had a much smaller role as Carey Mulligan's troubled boyfriend, Standard in Drive. He's released from prison just as the protagonist (Ryan Gosling) and Mulligan's Irene are becoming close, throwing a bit of chaos into the mix and kicking the crime caper plot into high gear.
What's so intriguing about Isaac in this movie is his unclear allegiances. Calling him a "bad guy" grossly oversimplifies his character in a cinematic world with pretty gray morality. Watching his brashness rub up against the quiet blankness of Gosling's unnamed antihero is one of the movie's most disconcerting — yet fascinating — dynamics.
Drive isn't free to stream, but is available to buy on iTunes and rent on Amazon.
Inside Llewyn Davis
Llewyn Davis is a dick. He's self-absorbed, destructive and resists any responsibility for his mess of a life. He frustrates everyone close to him, from the potential mother of his child, Jean (Mulligan in a Drive reunion) to his older friends, the Gorfeins. He's desperate for a shot at being a big folk star, even though he barely likes folk music. Llewyn Davis is, simply put, thoroughly unlikable.
It's to Isaac's credit that Llewyn Davis is also incredibly charming, both despite and because of his flaws. He doesn't seek to redeem Llewyn, but make the audience understand him. Inside Llewyn Davis is a frustrating film for how dismal it is, but Isaac shines through as the single reason to withstand the misery.
Inside Llewyn Davis isn't free to stream, but is available to buy on iTunes and Amazon.
A Most Violent Year
In A Most Violent Year, Isaac is charisma incarnate. He plays Abel, a heating oil company owner dealing with the systematic theft of his trucks while resisting using his wife's (Jessica Chastain) connections to the mafia. He is a lone white knight trying not to tarnish his armor amidst, appropriately enough, New York's most violent year.
The clip above is perhaps Isaac's best work in the movie. Abel instructs his young charges at the company on how to make a sale, displaying his full range of persuasive powers. There's something hypnotic about Isaac's performance, evident in every shift of the eye or flourish of the hand. He's got his fellow actors — and the audience — ensnared. Suddenly, buying his oil feels like a very sensible proposition.
A Most Violent Year is free to stream on Amazon Prime.
Show Me a Hero
Isaac played the real-life opportunistic Yonkers politician Nick Wasicsko in David Simon's latest HBO miniseries. 
In the late '80s and early '90s, Wasicsko found himself accidentally in the crossfire of a brutal battle over public housing and integration. He was a hapless hero, but a hero nonetheless.
Part of what makes Show Me a Hero so effective despite being about a seemingly dull subject is how relatable Wasicsko is. This is a guy who used an ugly political battle to get ahead, then found himself overwhelmed when he actually got into power. His eyes on the prize were bigger than his stomach for the so-called rewards. Like Llewyn Davis, Nick Wasicsko isn't the most likable — but thanks to Isaac, he's also strangely charming.
Show Me a Hero is free to stream on HBO Go and HBO Now.
Ex Machina
Months before Isaac's star rose in The Force Awakens, he danced his way into hearts in Ex Machina. As wicked genius Nathan Bateman, a man with an eye on creating artificial intelligence, Isaac uses his charisma to its darkest effect. It's hard not to be as taken by Nathan's sheer bravado as his young guest Caleb Smith (Domhnall Gleeson) is.
This is easily Isaac's most villainous work, but he's still not twisting his mustache with glee here. His character may be brash and loud, but his motivations are subtle. Ex Machina represents everything great about Isaac as an actor: He's a masterful manipulator with all the tools to be a hero, but he holds far more complex interests. He may be dreamy, yes, but be careful. That glint in his eye or bite of his lip may have consequences in the long run.
Ex Machina is free to stream on Amazon Prime.