Bill Cosby Charged With Felony Sex Crime for Alleged 2004 Assault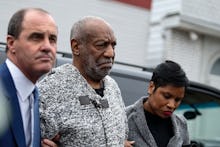 For the first time, comedian Bill Cosby will be tried in a criminal court for one of the dozens of alleged rapes he committed during his decades-long career touring the country. 
Cosby is charged with felony aggravated indecent assault in Montgomery County, Pennsylvania and a warrant was issued for his arrest. According to the Associated Press, Cosby is free on $1 million bail while he awaits trial. He did not enter a plea, but is set to appear in court next on January 14. 
In a press conference, First Assistant District Attorney Kevin R. Steele said the charge is related to an incident in Cheltenham Township near Philadelphia in January 2004, during which Cosby allegedly drugged and assaulted former Temple University employee Andrea Constand at his home there.
A previous district attorney declined to file charges against Cosby in 2005, but this case appears to be one of few, if any, cases in which the statute of limitations has not run out. In Pennsylvania, the statute of limitation for rape is 12 years.
Steele, who hinted he would bring charges against Cosby in an October campaign ad, says investigators re-opened the case after other accusers came forward alleging separate assaults.
A copy of the criminal complaint is below:
Cosby's reputation has imploded in recent years following allegations that he drugged and raped more than 50 women during his decades-long career, though he has never faced criminal charges for any of the alleged assaults. Most of the cases occurred decades ago, meaning that Cosby essentially got away with it — perhaps, though, until now.
If convicted, Pennsylvania law requires Cosby to serve a maximum sentence of 5-10 years in prison and pay a $25,000 fine.
This story will be updated.
Correction: Dec. 30, 2015
An earlier version of this story incorrectly stated that Cosby, if convicted, would serve a minimum of 5 years in prison. A conviction would carry a maximum of 5-10 years.