Bill Cosby's Sexual Assault Charge Has Twitter Saying "Finally"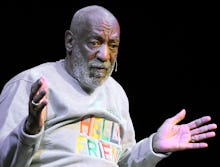 Phelan M. Ebenhack/AP
On Wednesday, Bill Cosby was charged in Pennsylvania for "aggravated indecent assault," a second-degree felony, stemming from an alleged sexual assault that occurred over a decade ago, according to ABC. The charge, which involves Andrea Constand allegedly being drugged and assaulted by Cosby in his home, is just one of many accusations against Cosby.
However, Wednesday's charge was the first criminal charge against Cosby relating to the sexual assault accusations. The case was about to run out because of the statute of limitations, but reopened after new evidence arose, according to Mashable. 
The new charge is momentous in Cosby's long-awaited case, prompting Twitter to react against the comedian. Some people questioned the statute of limitations while others brought up his beloved and fictitious character Cliff Huxtable, the protagonist of 1980s family-friendly television series The Cosby Show.
Constand was a former employee from Temple University, NBC reported. In 2004, Cosby allegedly gave her three blue pills and wine before assaulting her, according to NBC. Constand has said she felt "paralyzed" and "unable to move," according to District Attorney-elect Kevin Steele. Constand returned to Canada, and Cosby was never charged at the time.
Cosby revealed under oath that he used Quaaludes to sedate young women, the Associated Press reported in July. There have been 51 women who have come out with allegations against Cosby, according to Slate. 
Earlier this month, Cosby tried suing seven of the women who accused him for allegedly causing damage and suffering to his reputation.