Who Is Andrea Constand? What We Know About Bill Cosby Sexual Assault Accuser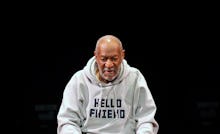 Brennan Linsley/AP
Comedian Bill Cosby was charged on Wednesday for the 2004 alleged sexual assault of former Temple University basketball coach Andrea Constand. The charges mark the first steps towards justice for more than 40 women who have accused Cosby of sexual assault or rape. The case was reopened because it didn't pass the 12-year statute of limitations.
Constand was the first woman to have her accusations of sexual assault against Cosby go public upon allegedly breaking her and Cosby's 2006 confidentiality settlement, People reported. She said he drugged and sexually assaulted her in 2004. Constand was seeing a woman at the time, according to her attorney's filing. 
Read more:
Constand is an Ontario, Canada, native who moved to the United States to play basketball in college; she was ranked one of the best players in Canada at the time, with a 30-point game average, the Philadelphia Daily News reported. She was granted a full scholarship to play basketball at the University of Arizona where she played for a few years before heading off to play for Team Canada in Europe in 1997. 
"I'm on a mission," she said in an interview before heading to Italy to compete for Canada in the World University Games, according to the Philadelphia Daily News. "First to help Canada do well, then to play basketball in Italy and finally crack a spot on a team in the WNBA."
She returned from abroad after 18 months to try for the Women's National Basketball Association when Temple University women's basketball coach Dawn Staley asked her to direct operations for the team. 
"It's not in her character to say something happened that didn't happen," her friend Anthony Simms told the Philadelphia Daily News. "People can go into her history and dig and dig and dig, but I don't know what they'll find. I'm pretty sure it's the cleanest slate you'll ever see. She's a good person."
Constand's lawsuit says she met Cosby after starting her career at Temple, according to the Philadelphia Daily News, as he was Staley's friend, and he became a close companion and guide to her. The suit said that she was thinking of switching careers in 2004 when Cosby invited her over to provide assistance, which was the night he allegedly assaulted her. 
Constand later quit her job at Temple and returned to Canada to pursue massage therapy, the Philadelphia Daily News reported.
Correction: Dec. 30, 2015