Rob Kardashian Hospitalized: What to Know About Diabetes and Its Causes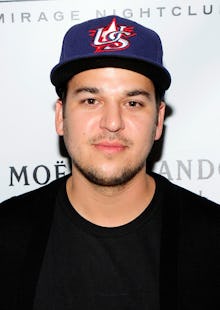 Steven Lawton/Getty Images
Rob Kardashian of the reality TV Kardashian family was hospitalized Wednesday with diabetes, TMZ reported. Kardashian was reportedly feeling ill during the weekend before he was admitted to a hospital in Los Angeles and diagnosed with diabetes. He has since been released. 
Speaking to E!, an unnamed sourced confirmed that Kardashian was hospitalized and is recovering. "He's home already," the source told E! "He went for a little and is fine now. It was a wake-up call." 
Kardashian has largely stepped out of the limelight by abstaining from appearing on Keeping Up With the Kardashians and limiting his public appearances, E! reported. TMZ reported that Kardashian's last public sighting was at a Los Angeles In-N-Out Burger restaurant in June. 
What is diabetes? According to the American Diabetes Association, there are a few types of diabetes: Type 1, gestational diabetes and Type 2. Type 1 diabetes, which was first named juvenile diabetes, typically affects younger demographics, while gestational diabetes affects pregnant women.
Type 2, the most common form of the condition, is a disease that follows a condition called prediabetes and occurs when a person's body doesn't utilize enough insulin or is resistant to insulin, causing glucose levels in the blood to reach abnormal levels. Insulin is the hormone that allows sugar to be transported from the bloodstream into cells, and becoming insulin resistant can lead to higher levels of sugar in a person's blood.
People with Type 1 and Type 2 diabetes must regularly test their blood to monitor the amount of glucose in their system and take medication to treat the condition.
According to the American Diabetes Association, "If you have Type 2 diabetes your body does not use insulin properly. This is called insulin resistance. At first, your pancreas makes extra insulin to make up for it. But, over time it isn't able to keep up and can't make enough insulin to keep your blood glucose at normal levels."
Causes of diabetes: According to the Mayo Clinic, the cause of Type 2 diabetes is unknown, however certain genetics and environmental factors can play a role in development of the condition. Being overweight is also a factor in developing Type 2 diabetes. And according to the Centers for Disease Control and Prevention, more than 29 million Americans have diabetes, a number that has climbed from about 26 million in 2010. Of those Americans with diabetes, a quarter are unaware they're diabetic. 
Dec. 30, 2015, 2:45 p.m.: This story has been updated.
Correction: Dec. 30, 2015