10 Apps to Help You Keep Your New Year's Resolutions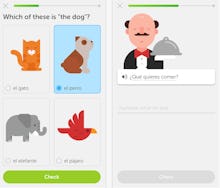 Duolingo
New year, new you, right? 
Everyone knows the drill: You choose a New Year's resolution (from social pressure or maybe a little alcohol), and you stick to it for the first two months. Then life happens and another resolution bites the dust. 
The most popular resolutions are staying fit, losing weight, "enjoying life to the fullest" and being more responsible with money, according to a 2015 Nielsen survey.
Up to 50% of people attempt to make a resolution, with about 46% of those succeeding for at least six months, the Washington Post reported. The main takeaway is that you are most likely to reach goals that can be measured in some form. 
So 2016 can be different, thanks to the help of your trusty mobile device that probably rarely ever leaves your sight. We're lucky to be living in the age of apps, which ping and notify us when we need it. Whether your resolution is to get fit, learn a new language or finally get your finances in check, there's an app for that.
1. Evernote and Scannable
Those who vow to be organized should consider going paperless with free Evernote app and its Scannable app. With Evernote, users can create to-do lists, take notes in labeled notebooks and even share and collaborate ideas and tasks with others. Since Evernote instantly syncs, your computer and phone will be constantly updated, no matter how busy your lifestyle.
Like its name implies, Scannable scans everything from receipts to documents and business cards and uploads them for easy access and no worrying over lost papers. All it takes is your phone, no outdated scanner. 
2. Duolingo
Learn language on your own time with Duolingo, which has been validated by Bill Gates, according to the Guardian. The app launched in 2012 and as of March, had over 70 million who have logged on. The app seeks to become a one-on-one tutor without the hassle of actually booking a tutor and leaving your apartment. Fifteen languages available, ranging from Danish to Italian and Turkish, according to the website.
3. Mint
This will be the year when you actually know what's going on with your personal finances. Mint is an app that tracks what and when bills should be paid, helps create budgets and notifies you on what areas you tend to overspend. All you have to do is sync up your bank account.
4. Coach.me
If there's a different, but more specific habit or skill you want to refine then Coach.me can help you stay on track. It measures everyday progress and lets you set up targets and reminders to hold yourself responsible. You can see your progress over the weeks and months. Side note: Those who own Apple Watches will find it especially useful. 
5. Wunderlist 
Another great planning app that keeps your personal and professional agendas in check is Wanderlist. With this app, you can add reminders, due dates and even hashtags to tasks. No excuses now.  
6. Stepz
Sure, hitting the gym regularly is an age-old resolution, but those who want a simpler reminder to just get up more may appreciate the Stepz pedometer app. The app automatically counts your steps using the Apple Motion Coprocessor, and can also sync up with the Apple Health App for almost brainless fitness lifestyle improvement.
7. iQuit
If your New Year's resolution has to do with breaking a habit rather than forming a new one, then you should look into iQuit. Instead of just announcing that you'll quit something, like smoking, this app tangibly tracks and also rewards your progress based on an actual due date. 
8. Nike+
A more hardcore fitness app that's tried and true is one of the Nike+ apps. Track your workouts, hit daily goals and get well on your way to collecting those endorphins. It also works as a good resource to discover new workouts. Seriously, just do it. 
9. Pocket
For those who want to be well-read citizens but don't have the time or are always forgetful, download the Pocket app. You can bookmark articles, stories and pretty much anything to read or watch them offline in your own time. 
10. Buddhify
Mindfulness can be achieved in 2016 with the help of Buddhify, which helps you improve your mental well-being through over 80 meditation exercises that are applicable to almost every situation. Time yourself during a solo meditation session and track your progress to nirvana.