Everyone Is Thirsty for Dean Strang From 'Making a Murderer' — And for Good Reason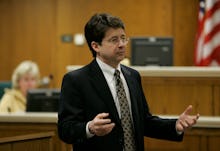 This is Wisconsin defense attorney Dean Strang. 
(Warning: From here, spoilers abound.) 
Strang is a criminal defense lawyer in Madison, Wisconsin, as well as an adjunct law professor at the University of Wisconsin. Most importantly, he's a key figure in Netflix's 10-episode documentary series Making a Murderer, which follows the trial of Steven Avery, a man who was falsely imprisoned from 1985 to 2003 for a sexual assault he did not commit. In 2005, Avery was arrested (and later convicted) for the rape and murder of photographer Teresa Halbach. 
Over the course of 10 episodes, Making a Murderer takes an in-depth, sobering look at the criminal justice process in small-town Wisconsin, and how a combination of ego and personal biases on behalf of the Manitowoc County Police Department might have led to a gross miscarriage of justice against not only Avery, but one of his relatives as well. (Brendan Dassey, Avery's mentally challenged teenage cousin, also confessed to his involvement in the rape and murder, later recanting and claiming he was coerced by police officers. Dassey, who the series says has a learning disability and reads at a fourth-grade level, is serving a life sentence at Green Bay Correctional Institution in Wisconsin.)
If you've been watching Making a Murderer, you're probably enraged by the level of incompetence and corruption displayed by the Manitowoc County Sheriff's department, as well as the miscarriage of justice Avery's and Dassey's trials seem to be. And you're also probably in love with Strang, one-half of Avery's impassioned criminal defense team. 
If so, you're not alone. 
At first blush, it might seem odd that ladies on Twitter are self-lubricating over a 55-year-old defense attorney from Wisconsin. Yet Strang has quite a lot going on that makes him a bona fide sex symbol. (For the record, Mic has reached out to Strang to ask for comment on his social media following, but he's probably doing things that are way too important, such as repairing the broken criminal justice system, to talk to us about why he so sexy.) 
For starters, there's his resemblance to a young Stephen Colbert, which many have pointed out on Twitter:
Or maybe it's his dark sense of humor in the face of unfathomably bleak circumstances. 
Or the fact he has this weird hurling statue in his office for some inexplicable reason. Why, Dean? Do you have Irish heritage? Were you on an intramural hurling team in college? We want to know all about you. Pour us a piping hot cup of Dean Strang. 
Shallow reasons aside, however, what seems to be resonating with Netflix viewers is Strang's passion and his relentless pursuit for justice, regardless of any obstacles he and his fellow defense attorney Jerry Buting might encounter. Throughout the series, it's clear that Strang is deeply frustrated by how the criminal justice system has failed not only his client, but also Dassey, expressing his incredulity time and again about the state's inability to acknowledge even the possibility of Avery's innocence.
The fact that Avery was convicted despite numerous flaws in the prosecution's case, such as potentially tampered evidence, a possibly coerced confession from Dassey and the fact the state failed to consider other potential suspects for the case, is a source of perpetual emotional turmoil for Strang. And when Strang experiences emotional turmoil, he gets eloquent. Like, super eloquent. 
To this day, apparently, Strang seems to doubt his client's guilt, despite the fact that Avery is serving a life sentence in prison for Halbach's rape and murder. (Avery continues to assert his innocence.)
"There are just enduring questions about whether Steven committed this murder," Strang recently told People magazine.
In a separate interview with the Madison newspaper the Capital Times, Strang noted he still gets upset when he thinks about the trial, particularly when he considers what happened to Dassey.
"The longer I'm in [this work], the more I tend to think about or at least focus on and worry about broader systemic failings or weaknesses," Strang said. "Brendan Dassey's case was just a vivid example, I think, of some systemic failings and fault lines that haunts me and provides a lot to think about."
But above all else, what Making a Murderer makes clear is that Strang isn't only an ardent defense attorney who cares deeply about his client — he's also just a really awesome lawyer. On the subreddit for Making a Murderer (yes, of course, there's a subreddit), there are numerous threads devoted to the Strang/Buting powerhouse duo, with redditors waxing effusive about their performance in the courtroom. 
Even when the two were blocked at every turn, they continually demonstrated what two defense attorneys working for their client really looks like — an example that stood in unfortunately stark contrast to that of Dassey's original defense lawyer Len Kachinsky, who was later accused of "violat[ing] his duty of loyalty" to Dassey during the trial by allowing him to be interrogated without a guardian present.  
"I certainly found myself thinking if I was ever in a situation where I needed criminal legal defense (hopefully, I won't) that Dean Strang would be my top pick," one redditor wrote. "He seemed brilliant, compassionate and truly driven by doing what's right."
Brilliance, compassion, competence, a firm sense of justice — what more could anyone want? Dean Strang for president. Dean Strang for People's Sexiest Man 2016. Dean Strang 4Eva. 
(Oh, and Buting — don't think we've forgotten about you. You can get it too.)