Kesha Responds to Sony's Desire to Turn Her Into the Next Adele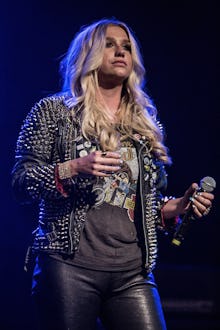 The more information that comes out about Kesha's legal tangles with her producer Dr. Luke and label Sony, the more ugly the situation seems. She's been tied up in lawsuits since October 2014, when she sued Dr. Luke for sexual abuse and battery. Since then she's had to watch time tick tock slowly by, unable to release new music while the battles play out.
Apparently, though, Sony doesn't think this is all that much of an issue. On Dec. 22, TMZ published information from recent court documents in which Sony claims the wait could turn Kesha into the next Adele. In the documents, Sony "[points] out Adele, [Justin Timberlake] and D'Angelo all took long breaks and came back stronger," according to TMZ. 
Wednesday Kesha responded to the claims on Instagram, calling the company out for "trying to put a positive spin on a horrible situation."
"I love Adele, and this has nothing to do with her or any other artist," Kesha wrote in a post attached to a snapshot of a Jezebel article sharing Sony's court document claims. "I never wanted to have a 'comeback' because I never wanted to go away. Making these comparisons is Sony's way of trying to put a positive spin on a horrible situation."
Adele's and Kesha's careers could not be more different. Adele took the time off to raise her son and get back in touch with herself and her creativity. Kesha, on the other hand, has been fighting tooth and nail for her creative freedom to stop "putting out the same song and becoming a parody [of] myself," as she told Rolling Stone in October 2013. 
Simply taking time off does not make an Adele. It takes a commitment to quality, deep reflection and, perhaps most importantly, a supportive work environment. Adele had that. Kesha clearly does not.
Despite her inability to record, Kesha has still been making music. On Christmas Day, Kesha shared a video of a Nashville performance with a new group she put together, which she's calling Yeast Infection. "I love all of my animals!!!" she wrote on her Facebook. "Thanks for all of the support this year!!! .... Don't worry no one will ever shut me up."
Playing punk-rock inspired psychedelic remixes of her songs "Blow" and "Timber," the music is about as far from the clean, fun-for-all-ages Adele as one can get. Sony can listen and weep.