Transgender Actress Amiyah Scott Says She Was Booted from 'Housewives' Franchise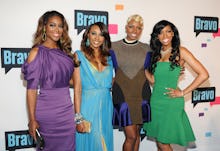 Earlier this week, transgender actress Amiyah Scott posted a video message to Instagram that explained both her recent appearance on the Bravo television show Real Housewives of Atlanta as well as her departure from the series. 
"I wasn't going to exploit myself or act out of character," Scott wrote on her Instagram post. "I honestly saw a chance to help change the perspective of my community, but I wanted to maintain my dignity." 
"Housewife and transgender aren't words that are usually associated." She said she was not filming for attention, but to break stereotypes. 
According to a source close to production on RHOA, Scott appeared only in Sunday's episode and will not be in any other episodes. Scott was also never an official housewife or an official friend of the housewives. 
"Amiyah did work with a fellow housewife on her lingerie show," the source told Mic. "When she was asked if she wanted to wear the clothing, she politely declined. Nothing more, nothing less."
The source said that Scott's Instagram post was surprising and that she did not raise any issues with anything that happened at the time. 
Scott went on to write that transgender women are not only sex objects or prostitutes. "We are here and we demand respect."
Director and producer Lee Daniels cast Scott in a prequel to his hit show Empire about Cookie Lyons' life, BET reported earlier in December.