Female Rep's Colleagues Lash Out in Most Sexist Way Possible When She Opposes Nipple Ban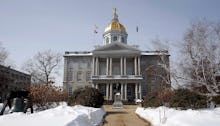 A female state representative from New Hampshire sparked a sexist backlash from her own colleagues after she spoke out against legislation that would make it a crime for women, but not men, to expose their nipples.
The measure, proposed by GOP state Reps. Brian Gallagher, George Hurt, Josh Moore and Peter Spanos, makes it a misdemeanor for a man or a woman to publicly display his or her anus, and for a woman to show her nipple. New Hampshire's public indecency law currently bans public sex, genital displays and general acts "of gross lewdness."
Rep. Amanda Bouldin, a first-term Democratic state representative from Hillsborough, New Hampshire, took to Facebook on Tuesday to blast the law, identifying a sexist double standard and taking its GOP sponsors to task for contradicting their party's ostensible support for "smaller government."
Bouldin's colleagues weighed in on the thread, and that's where the dialogue quickly coarsened. Moore, one of the bill's sponsors, responded to a comment from Bouldin about how the measure would affect breastfeeding by accusing her of spouting "liberal talking points" and suggesting that if a woman wished to show her nipple in public, she "should have no problem with a mans inclantion [sic] to stare at it and grab it":
Bouldin told Mic that Moore's comment reflected "backwards" thinking.
"They seem to think that they're doing me a favor and protecting my innocence and my modesty by putting me in jail if I expose my body," she said. "If someone were to grab a woman's nipple, we should be going after her assaulter, not the woman."
Moore has since deleted the comment.
Rep. Al Baldasaro, a staunch social conservative from Londonderry, New Hampshire, also jumped in on the thread. In a comment that's still up on Bouldin's page, he told her, "your nipple would be the last one I would want to see":
In a phone interview, Baldasaro confirmed to Mic that he wrote the comment, saying it was part of a "clean debate" about the bill. He dismissed charges that he and other supporters of the legislation harbor any sexism, calling that a "bullshit argument."
"Tell that to all the families with all the children that don't want to be around nudists. They think anything goes," he told Mic. "This is about family values." 
Baldasaro, a supporter of GOP presidential frontrunner Donald Trump, made news earlier this month for backing Trump's call for a ban on foreign Muslims entering the United States. "I'm not prejudiced against Muslims, but until we can straighten them out and know who's who and who is coming into our country, we have to stop the immigration," Baldasaro told the Wall Street Journal.
Noting Baldasaro's support for the Muslim ban, Bouldin told Mic that it made his endorsement of the nipple-ban bill all the more ironic. 
"Legislating a woman's indecency is so close to the concept of sharia law that these Republicans claim to oppose," she said. At any rate, Bouldin added, toplessness is far from a rampant problem in frigid New Hampshire: "There aren't women running around topless. Everyone in New Hampshire wears clothes — it's like 25 degrees right now."
What is a problem, Bouldin said, is the strain of sexism manifested in the reactions to her Facebook post. 
"It's not easy," she said, to be "a young, progressive, female" lawmaker in a legislature where that demographic doesn't exactly predominate. But Bouldin said the reaction is even more troubling to her as a mother.
"One day I'm going to be gone and not there to protect my daughter," she told Mic. "I want her to grow up in a world where she has power in her life. If this is how people as young as Rep. Moore [Moore is in his 20s] think, I'm worried about the future."