Louis Vuitton's Latest Model Is a Video Game Character — And It's Brilliant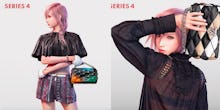 Dressing up video game characters is a lasting tradition in gaming, whether it's Wii avatars, Grand Theft Auto protagonists or Animal Crossing characters. But in 2016, video game characters are shrugging off the rags you bought them as downloadable content and entering the world of haute couture. Welcome to the future of fashion.
Louis Vuitton is rolling out high-fashion ads featuring Lightning, the main protagonist in Final Fantasy XIII. The bags aren't part of an in-game download or a collaborative line between Square Enix and Louis Vuitton — it's an honest-to-god part of the campaign for the Louis Vuitton Spring-Summer 2016 collection.
Creative director Nicolas Ghesquière has been showing off action-packed video of Lightning on Instagram since Saturday:
Ghesquière has since posted stills showing Lightning with a number of Series 4 purses as well as footage of Lightning cosplayers.
This isn't the first time a Final Fantasy character has modeled for a luxury fashion brand. Other Final Fantasy characters, Lightning included, modeled an apparel line for Prada in Japanese men's magazine Arena Homme Plus. (Let's also briefly remember the cringefest that was the 2001 Maxim Hot 100 appearance of Final Fantasy: The Spirits Within character Dr. Aki Ross in a barely there bikini — and then immediately forget it.)
Needless to say, this decade's attempts at video game fashion photography have been dramatically more tasteful and less based on male-nerd gaze.
It makes total sense. Video games and high fashion may not immediately seem like a natural pairing, but those kinds of cultural divisions are dying away. This year, women became the majority demographic of people identifying as regular gamers, and the past decade has seen a major shift from a mostly white, male, young subculture to a true staple of mainstream entertainment, largely due to the spread of smartphones that have put world-class games in the hands of everyone with a modern phone.
This decade's attempts at video game fashion photography have been dramatically more tasteful and more than a little less based on male nerd gaze.
It also shows the fashion world willing to reach into an opportunity to tap two top markets for luxury in one fell swoop — the United States and Asia. While American and Asian cultures don't necessarily share the same pantheon of pop stars and mainstream films, the Final Fantasy franchise, particularly, straddles both. The Playstation 3 version of Final Fantasy XIII sold around 1.8 million copies in both the United States and Japan.
If this continues, we could see other luxury brands follow on to culturally shared franchises, increasing gaming's recent infusion of high design and art. Not to mention, your Comic-Con cosplay is going to get a lot more expensive.