Texas' Updated Abortion Restrictions Will Hurt Abused and Neglected Minors Most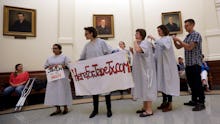 After passing a bill in May that put into place new hurdles for teenagers seeking an abortion, the Texas Supreme Court amended the state legislation to make it even stricter. Presently, in the case of guardian abuse or neglect, minors can get permission for an abortion from a judge, who is required to make their decision within two days. for an abortion . When the new rules go into effect on Jan. 1,  judges will have five days to make their ruling — but if they don't meet their deadline, the case will be deemed denied. 
According to the Texas Observer, the amendment to House Bill 3994 went against the counsel of the court's advisory committee members, who advised that a new judge be appointed to a case if no decision had been made during the five-day window.
Pro-life advocates maintain the bill is in the best interest of pregnant teens. The Texas Alliance for Life executive director Joe Pojman told the Observer, "The Texas Supreme Court has faithfully implemented House Bill 3994 in a way that will best protect the well-being of minor girls." 
Tina Hester, executive director of Jane's Due Process, a nonprofit providing legal representation to pregnant minors in Texas, told Mic the bill will do the exact opposite. "These are the most vulnerable, abandoned, abused teens and the state took it upon themselves to kick them a little harder," she said. 
Hester added that she also believes it infringes on the right to due process, and flies in the face of a 1979 Supreme Court ruling that said minors have the right to seek an abortion without parental consent. Jane's Due Process is now considering whether the organization has grounds to sue.
"The [court] proceedings are to be expeditious and anonymous," said Hester, emphasizing the difficulty of maintaining anonymity in some of Texas' more rural regions. "A girl can file for an application and a court can slam the door in her face," she said. "That's not expeditious for her: She has to have an effective opportunity to access her constitutional right." 
Texas ranked in the top five for states with the highest rates of pregnancy among teens between 15 and 19 in 2014. 
According to Hester, Jane's Due Process serves only about 10% of the state's population of pregnant minors, and many of the girls seeking a judiciary bypass are doing so because their parents are absent or abusive. 
"The minors who come to us are not ambivalent; they know they want to terminate the pregnancy," she said. "They might have a college scholarship, they might be the first in their family to go to the college and they know that if they tell their parents [they're pregnant] they won't be allowed to go." 
On its blog, Jane's Due Process shares the stories of young girls who have survived abuse, fake abortion clinics and coercive crisis centers, including that of one girl who needed an abortion, but was unwilling to return home to her drug-addicted parents to get the required permission.
Hester said she worries for these girls and what many of them might resort to without access to safe abortions. She said, "It's just going to put the process farther underground."