2016 Apple Release Predictions and Product Rumors Could be Biggest Reveals Yet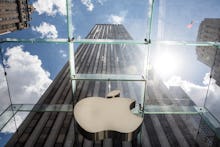 Andrew Burton/Getty Images
What does Apple have in store for the new year? No one knows for sure, but we have a few hunches based on tech rumors and company trends. 2016 might be the year of the iPhone 7, a newer and lighter iPad, another version of the Apple Watch and maybe even the return of the candy-colored plastic iPhones we haven't seen in years. Virtual reality? Not outside the realm of possibility. Here's our forecast for the immediate Apple future.
Read more: 
iPhone 7? This is less a question and more a given. Every year since 2007, Apple has released a new version of its iPhone. 2015 gave us the iPhone 6s and iPhone 6s Plus, which indicates that — if the past eight years are any indication — the iPhone 7 will arrive in stores in the fall of 2016. Apple has neither confirmed nor denied rumors around its latest model, but according to MacWorld, the iPhone 7 and the iPhone 7 Plus could be much thinner, measuring 4.7 and 5.5 inches long, respectively. MacWorld also predicts that the battery life will be a little better, the phone will have more storage, the screen might stretch edge-to-edge and that Apple might one-up itself and upgrade to even better resolution than the Retina HD displays on the 6s and 6s Plus can provide. And as GSM Arena reported, recent rumors from China speculate that the 7 will be waterproof and more streamlined than ever.
iPad Air 3? In 2014, Apple introduced its iPad Air 2; in 2016, MacWorld predicts, it may well release its iPad Air 3, which could boast a higher resolution and a better camera than its predecessor. Apple tends to make its new releases thinner than their previous iterations, which could certainly hold true for the iPad Air 3. MacWorld acknowledges speculation that this smaller size could mean shorter battery life, although such a move "seems barmy" to them, as consumers aren't shy about voicing their feelings on Apple battery life. According to Tech Radar, the iPad Air 3 could also feature more RAM and iOS 10 compatibility.
iPhone 6c? Apple launched its iPhone 5c in 2013, a cheaper and more colorful version of its 5 series. According to MacRumors, a Chinese supplier leaked images of iPhone 6c casings back in Dec. 2014. The model was apparently scrapped, when the 6 and 6 Plus lost their luster on the eve of the 6s release and became the go-to cheap phone option. Now, MacRumors speculates that the 6c will debut in 2016. Should it materialize, it isn't likely to come with the fancier features of the latest 6 models or the projected 7, but it should be smaller than current iPhone options. It would, we hope, also lose the spontaneous combustion capabilities of the 5c.
Apple Watch 2? The pilot Apple Watch has proved far from the tech company's greatest hit, which makes the projected 2016 introduction of Apple Watch 2 either nonsensical or completely logical — a chance for Apple to correct the watch's shortcomings. MacWorld expects that the second edition will most likely arrive in March or April, and that it could be a vast expansion on the current version's health monitoring options, along the lines of what consumers anticipated before the original Apple Watch's launch. It might also feature a longer battery life — longer than the original Apple Watch's 18 hours — and Facetime capabilities, and that it could be more app-friendly than the original model. MacWorld forecasts that it might be available in a more diverse range of designs as well.
Virtual reality?  Dan Ives, an analyst at FBR Capital Markets, has been adamant that virtual reality products are among the tech giant's definite plans. The company holds a patent on virtual reality goggles, and last October, it honored its tradition of cooperation with rock band U2, debuting a virtual reality "Song for Someone" music video from the group. Apple has a number of virtual reality-related holdings, and because 2016 might be "the year virtual reality finally goes mainstream," according to NPR, it seems only natural that Apple would want to catch up with its competitors and introduce some virtual reality products of its own.