Adele News: '25' Remains No. 1 Album for 5th Week in a Row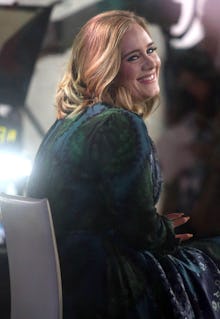 KGC-146/STAR MAX/IPx/AP
Adele's 25 had record-breaking sales upon its November release, debuting at No. 1 on Billboard's 200 chart — and more than a month later, it hasn't budged. 
The album sold more than 3 million copies during its debut week and sold 1.16 million last week, passing the 7 million mark. It's not too surprising, then, that it's still sitting comfortably at No. 1. The ranking is based on all metrics of album sales including traditional and streaming. 
Adele can thank her album and radio hit singles "Hello" and "When We Were Young" for earning her the honor of being Billboard's No. 1 artist on its top 100 artists chart for the fifth week in a row as well. "Hello" has ranked number one on Billboard's Hot 100 chart since its October release when it almost broke the internet. 
Read more:
Though the megastar has discussed her reservations about fame publicly, it's clearly too late for her to dodge that one. She told Harper's Bazaar in November that she doesn't totally hate being famous, she just fears it. "People think I hate being famous, and I don't. I'm really frightened of it," she said in the interview. "I think it's really toxic, and I think it's really easy to be dragged into it."